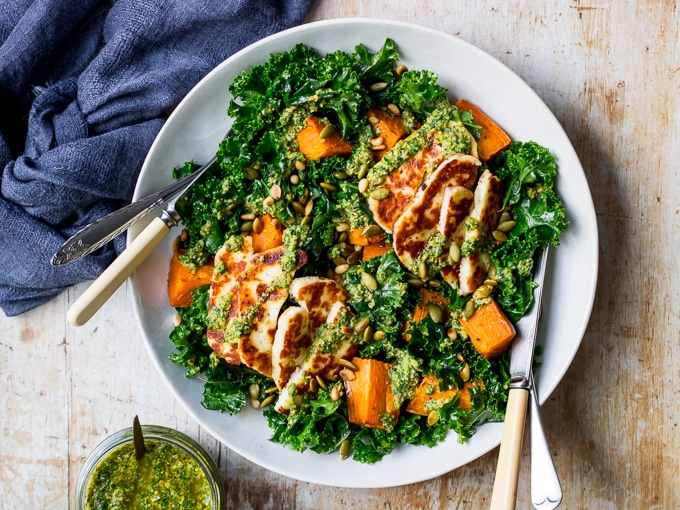 Fall in love with kale with this halloumi kale salad with a pesto dressing. Massaged kale with roasted sweet potato, pan fried halloumi and drizzled in a lemony pesto is a match made in heaven! Gluten free and grain free.
---
Ingredients
5-6

 

large

 

kale leaves

 

about 1/3 – 1/2 small bunch kale

1

 

large

 

sweet potato

 

about 400 grams

100-125

 

grams

 

halloumi

 

about 1/2 small block

1

 

lemon

4

 

tbsp

 

extra virgin olive oil

2

 

tbsp

 

pesto

 

– I used my lemon basil pesto, see recipe notes

1

 

tbsp

 

pine nuts

 

– OPTIONAL, for topping

1

 

tbsp

 

pumpkin seeds

 

– OPTIONAL, for topping

salt and pepper
Preheat oven to 180 C. Rinse and scrub sweet potato and then cut into small chunks (about 2cm cubes). Place on a non-stick oven tray,  drizzle with 1 tbsp olive oil and toss around to coat. Spread out evenly and roast for 45 minutes or until soft and slightly browning.

---

Wash the kale leaves and then tear into small pieces, discarding the thick inner stems. Place the leaves in a large bowl. Add 1 tbsp extra virgin olive oil, the juice of half of the lemon and a pinch of salt. Massage the leaves with your fingertips until the leaves soften.

---

Slice the halloumi into pieces about 5mm thick. Pan fry the halloumi in 1 tbsp olive oil, until golden brown on each side.

---

If using the pumpkin seeds and pine nuts, toast them in the oven (spread out on a small tray, no oil) for about 5 minutes or until slightly golden. Watch them carefully so they don't burn.

---

Make the pesto dressing by combining 2 tbsp pesto, 1 tbsp olive oil and the juice of the remaining half of the lemon.

---

Assemble the salad, layering in the kale leaves, sweet potato, halloumi, seeds/nut and finally finishing with the pesto dressing. Season with salt and pepper to taste. Serve immediately!
---
Quick Notes
this recipe is also delicious with roast pumpkin substituted in for the sweet potato! 
How to massage kale:
The trick to making this a really excellent salad is to give the kale a good massage, so it's soft, easier to digest and laced with the flavours of olive oil, lemon and salt. Here's how you do it:
Wash your kale leaves, pat/shake dry and then tear the leaves into smaller pieces, discarding the thick inner stem.

Place kale into a large bowl.

Drizzle over a little extra virgin olive oil, a squeeze of lemon juice (essential, the acid helps it break down) and a pinch of salt.

Get your hands into the bowl! Literally, properly massage the kale with your fingertips. Do this for a few minutes until you feel the kale is softened and evenly coated with the ingredients.

Voila, you are done. Now it's ready to go in the salad.
If you don't have lemon juice, you can use a dash of apple cider vinegar or white wine vinegar instead. These will also provide the acid needed to help tenderise the kale leaves.