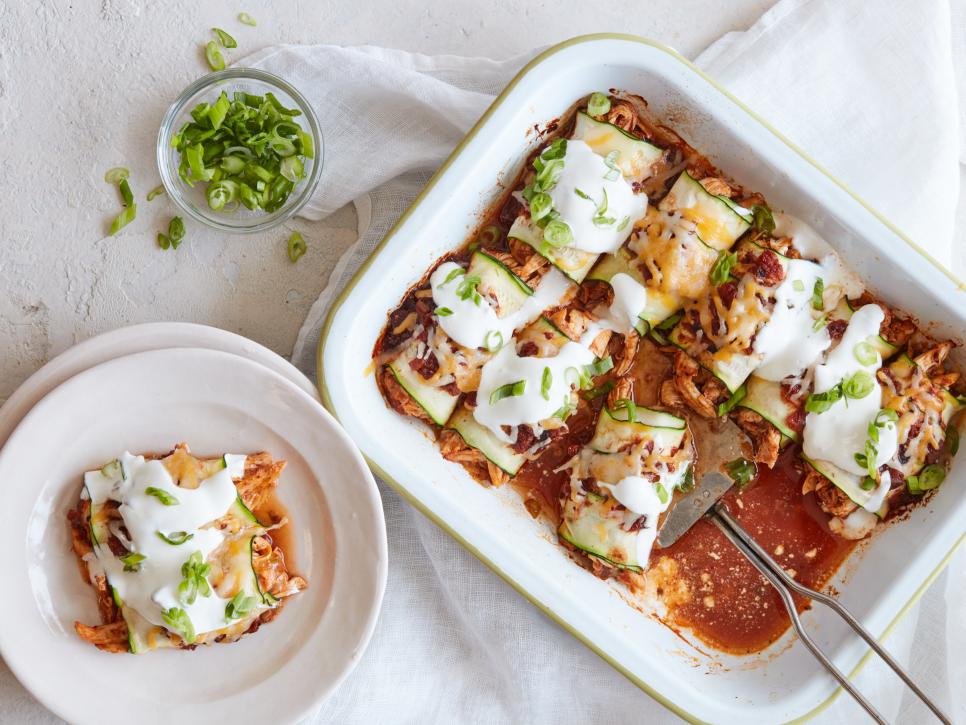 Take advantage of summer's squash bounty and wrap your enchilada filling up in zucchini.
Ingredients
2 tablespoons vegetable oil

4 scallions, sliced (white and green parts separated)

2 cloves garlic, thinly sliced

1 tablespoon chili powder

3 cups shredded rotisserie chicken (skin discarded)

1 1/2 cups salsa (not chunky)

1 cup shredded Mexican blend cheese

3 to 4 medium zucchini

Several dashes chipotle hot sauce, plus more for serving, optional

2 tablespoons sour cream
---
Description
Preheat the oven to 375 degrees F.




---

Heat the oil in a large skillet over medium heat. Add the scallion whites and garlic and cook, stirring frequently, until soft, about 5 minutes. Sprinkle in the chili powder and cook, stirring, until the scallions are coated and the oil is brick red, about 1 minute. Remove from the heat and stir in the chicken, 1/2 cup of the salsa and 1/2 cup of the cheese. Set aside. 




---

Halve the zucchini lengthwise and arrange cut-side down on a work surface. Use a Y-shaped vegetable peeler to shave off ribbons the entire length of each zucchini and as wide as possible (the first few may be too skinny). Make 36 zucchini ribbons total. 




---

Lay out 3 ribbons, slightly overlapping to make a rectangle (think of this as your "tortilla"). Pile about 1/4 cup of the chicken mixture down along one of the short ends of the zucchini tortilla and then roll up to enclose the filling. Put in a 2- to 3-quart baking dish. Roll up the remaining zucchini ribbons and filling and arrange in the dish. Top the rolls with the remaining 1 cup salsa. Add several dashes of the hot sauce and sprinkle with the remaining 1/2 cup cheese. 




---

Bake until the cheese is melted and the filling is hot, about 25 minutes. Let cool for a few minutes. Thin the sour cream out with a little water and drizzle over the enchiladas. Sprinkle with the reserved scallion greens and serve with more hot sauce if you'd like.
Website: www.foodnetwork.com