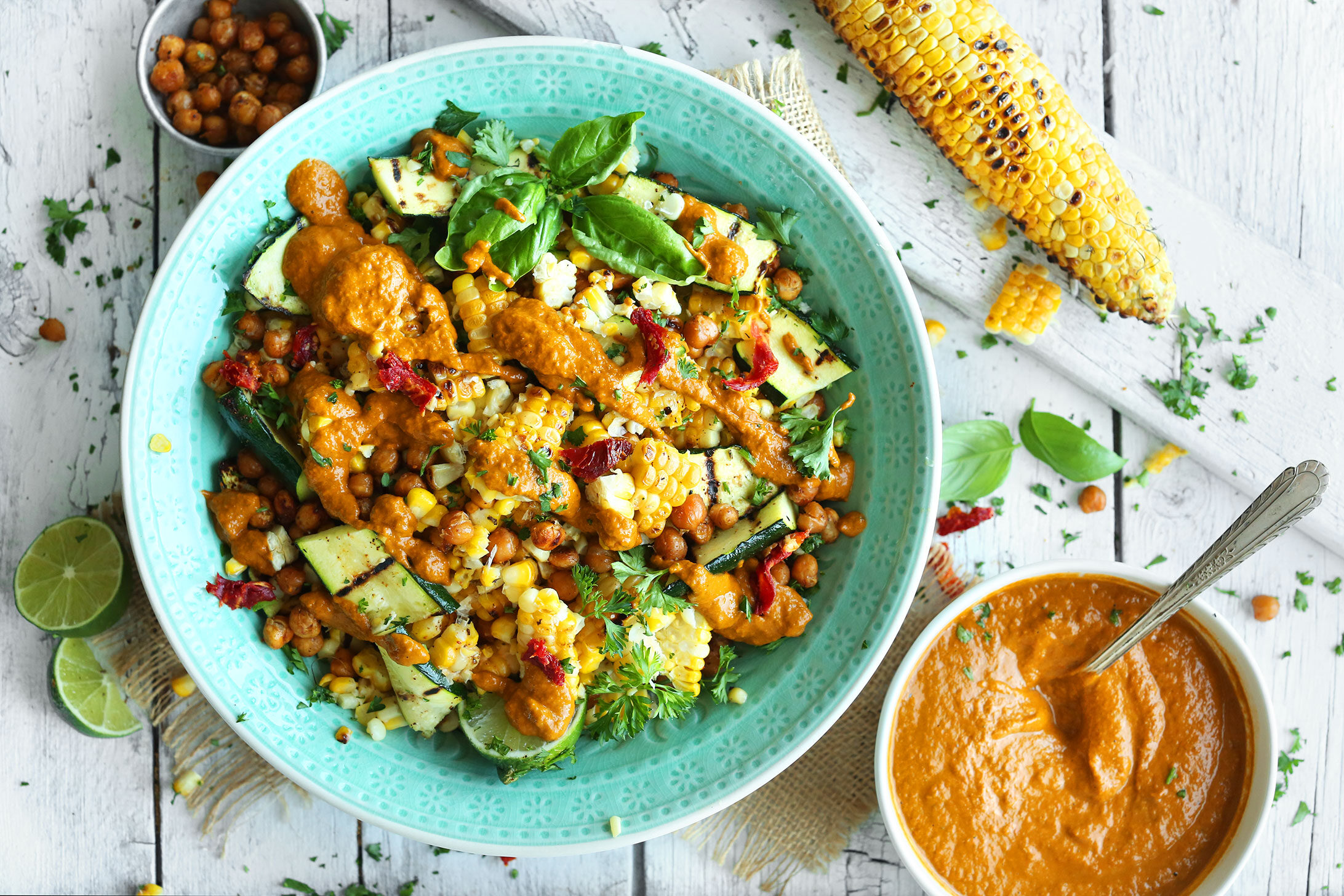 An amazing, light summer dish: 30-minute Grilled Zucchini & Corn Salad with sun-dried tomato vinaigrette! Top with roasted chickpeas for even more protein.
---
Ingredients
Veggies
5-6

 

ears

 

corn

 

(in husk)

2-3

 

medium

 

zucchini

1

 

Tbsp

 grape seed, avocado or olive oil

Sea salt and black pepper
Extras optional
Roasted chickpeas*

Fresh lime juice
Start by heating up your grill and prepping the corn and zucchini.

---

Slice zucchini thinly lengthwise, brush lightly with avocado or grape seed oil (or another high-heat oil), and sprinkle with salt and pepper. Set aside. Also soak corn (in husk) in cold water for 5 minutes.

---

In the meantime, prepare your dressing by adding all ingredients (sun-dried tomatoes, hot water, lemon juice, basil, garlic, olive oil, maple syrup, salt, and pepper) to a blender and blend on high until creamy and smooth. If too thick, add more water to thin until pourable. Taste and adjust flavor as needed, adding more lemon for acidity, garlic for zing, maple syrup for sweetness, salt + pepper for flavor balance, or basil for freshness/earthiness. Set aside.

---

Once your grill is hot, add corn (still in husk) and cover. Cook for 5-8 minutes, rotating to cook all sides, until all sides are lightly browned. Then carefully remove husk and place back on grill until golden brown on all sides – about 5-8 minutes.

---

When the corn is almost ready, add zucchini to the grill and grill on each side for about 2-4 minutes, depending on how hot the grill is. You want grill marks, but you don't want the zucchini to get too soft. Set aside.

---

Cut corn off cob and halve zucchini. Then add to a serving bowl. At this time, add roasted chickpeas if desired (see notes for preparation). Drizzle with fresh lime juice and desired amount of dressing, and garnish with fresh basil and/or parsley.

---

Best when fresh. Leftover dressing will keep covered in the refrigerator up to 4 days.
Recipe Notes:
*I use sun-dried tomatoes that are dry in a package. If yours come packed in oil, you will likely need much less water, so start with 1/4 cup (60 ml // amount as original recipe is written // adjust if altering batch size) and work your way up from there.

*To make roasted chickpeas (amount as original recipe is written // adjust if altering batch size), thoroughly drain a 15-ounce can of chickpeas and add to a mixing bowl. Then add 1 Tbsp olive or grape seed oil, a healthy pinch each sea salt, ground cumin, dried oregano, smoked paprika, and black pepper. Roast at 350 degrees F (176 C) for 20-25 minutes or until golden brown and crispy.

*Nutrition information is a rough estimate calculated using 2 zucchini, 6 ears of corn, and all of the dressing per 4 servings.

*You will have plenty of leftover dressing, which will last for about 4-5 days in the refrigerator. Use on salads, grilled veggies, and more!