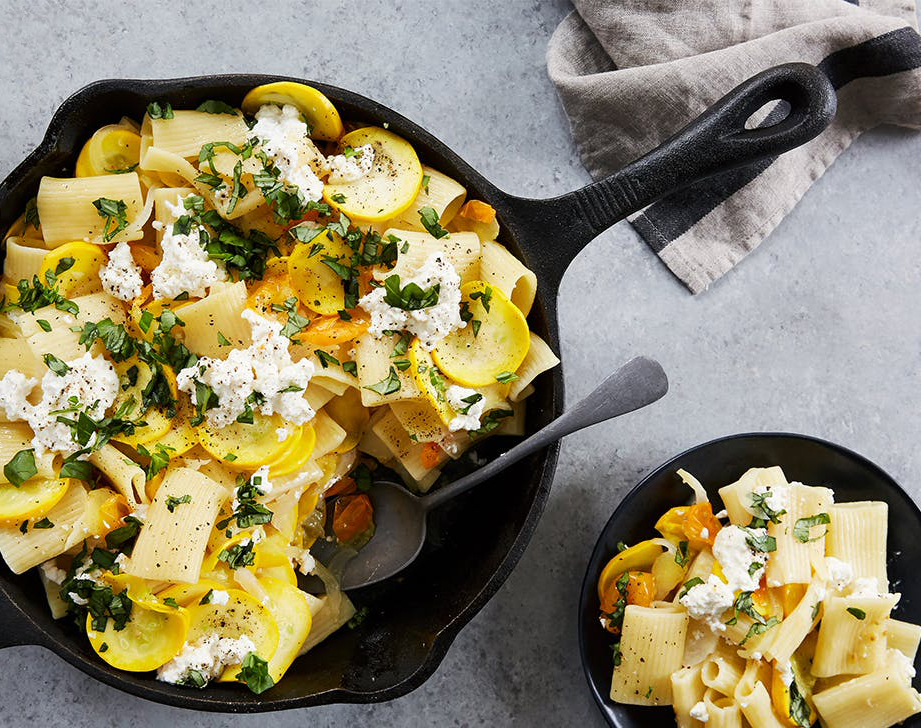 When the weather gets warm, spaghetti and meatballs just won't cut it. Serve up this skillet pasta with summer squash, ricotta and basil instead. Best of all, this one-pan meal is ready in half an hour.
---
Ingredients
1 pound pasta (like penne or rigatoni)

2 tablespoons extra-virgin olive oil

1 sweet onion, thinly sliced

3 garlic cloves, minced

2 summer squash, thinly sliced

1½ cups halved yellow cherry tomatoes

Salt and freshly ground black pepper

⅓ cup finely grated Pecorino Romano

1 cup ricotta cheese

¼ cup chopped fresh basil
Fill a large skillet with water and salt it generously. Bring it to a boil over high heat. Once it's boiling, add the pasta and cook according to the instructions on the package.




---

Drain the pasta and set aside, reserving ¾ cup of the pasta cooking water.




---

In the same skillet, heat the olive oil over medium heat. Add the onion and sauté until tender, 4 to 5 minutes. Add the garlic and cook until fragrant, 1 minute more.




---

Add the squash and tomatoes, and cook until both are tender, 4 to 5 minutes. Season with salt and pepper.




---

Add the reserved pasta water to the mixture and toss well to coat, then add the pasta and stir. Sprinkle in the Pecorino Romano and stir again to combine.




---

Dollop the ricotta on top of the skillet pasta and garnish with basil. Serve immediately.