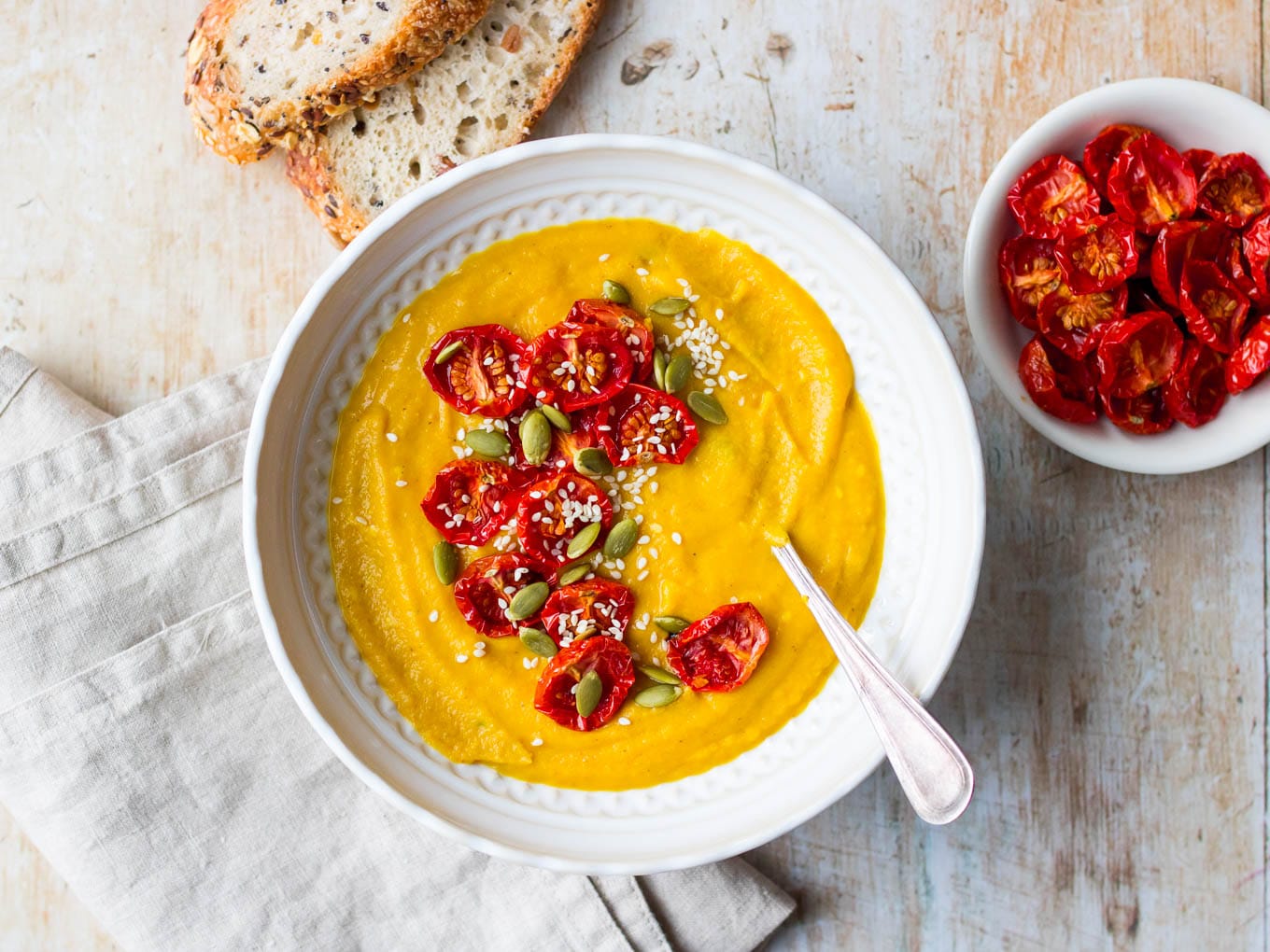 This cauliflower, sweet potato and red lentil soup is so thick, creamy and satisfying! Jam packed with veggies plus red lentils for protein. The lentils cook super quickly and everything gets blended together to make a hearty soup! Gluten free and vegan.
---
Ingredients
1

 

cup

 

red lentils

 

(measured uncooked)

500

 

grams

 

sweet potato

500

 

grams 

cauliflower

1

 

brown onion

2

 

cloves

 

garlic

1

 

thumb size piece

 

ginger

1

 

litre

 

vegetable stock

 

(to be added 500mL at a time, as instructed below)

1

 

cup

 

water

2

 

tsp

 

ground cumin

1

 

tsp

 

ground coriander

1

 

tsp

 

ground turmeric

extra virgin olive oil

 

for cooking

salt and pepper
Preheat oven to 180C and line a large baking tray with baking paper. Chop cauliflower and sweet potato into chunks. Place sweet potato on tray and drizzle with olive oil. Roast for about 15 minutes, then add the cauliflower (with a drizzle of olive oil) to the tray as well, and return to the oven for another 30 minutes, or until all of the veggies are soft and browning at the edges.

---

While the vegetables are roasting continue with the rest of the soup. Peel and finely chop onion, garlic and and ginger. Heat a large soup pot on the stove and add 2 tablespoons olive oil. Fry the onion, garlic and ginger until fragrant, for about 2 minutes. Add in the lentils, 500mL of the vegetable stock and 250mL of water. Bring to the boil, and then gently simmer for approximately 15 minutes or until the lentils are soft.

---

Once the roasted vegetables and the lentils are done, combine them in the soup pot, and add in the remaining spices (cumin, coriander, turmeric) and the remaining 500mL of stock.

---

Use a stick/immersion blender to puree the soup together right in the pot, or transfer to a jug blender and blend (you may need to do so in batches). Return to the soup pot to warm up over the stove and season with salt and pepper to taste.
---
Quick notes: 
You can use chicken stock instead of vegetable stock if you prefer. I like to do this if I have some proper chicken broth on hand!

If you don't have enough sweet potato and/or cauliflower on hand you can throw some carrots into the soup too, they taste nice in there. Use up whatever veggies you have, whenever you can, I say.
Website: nourisheveryday.com