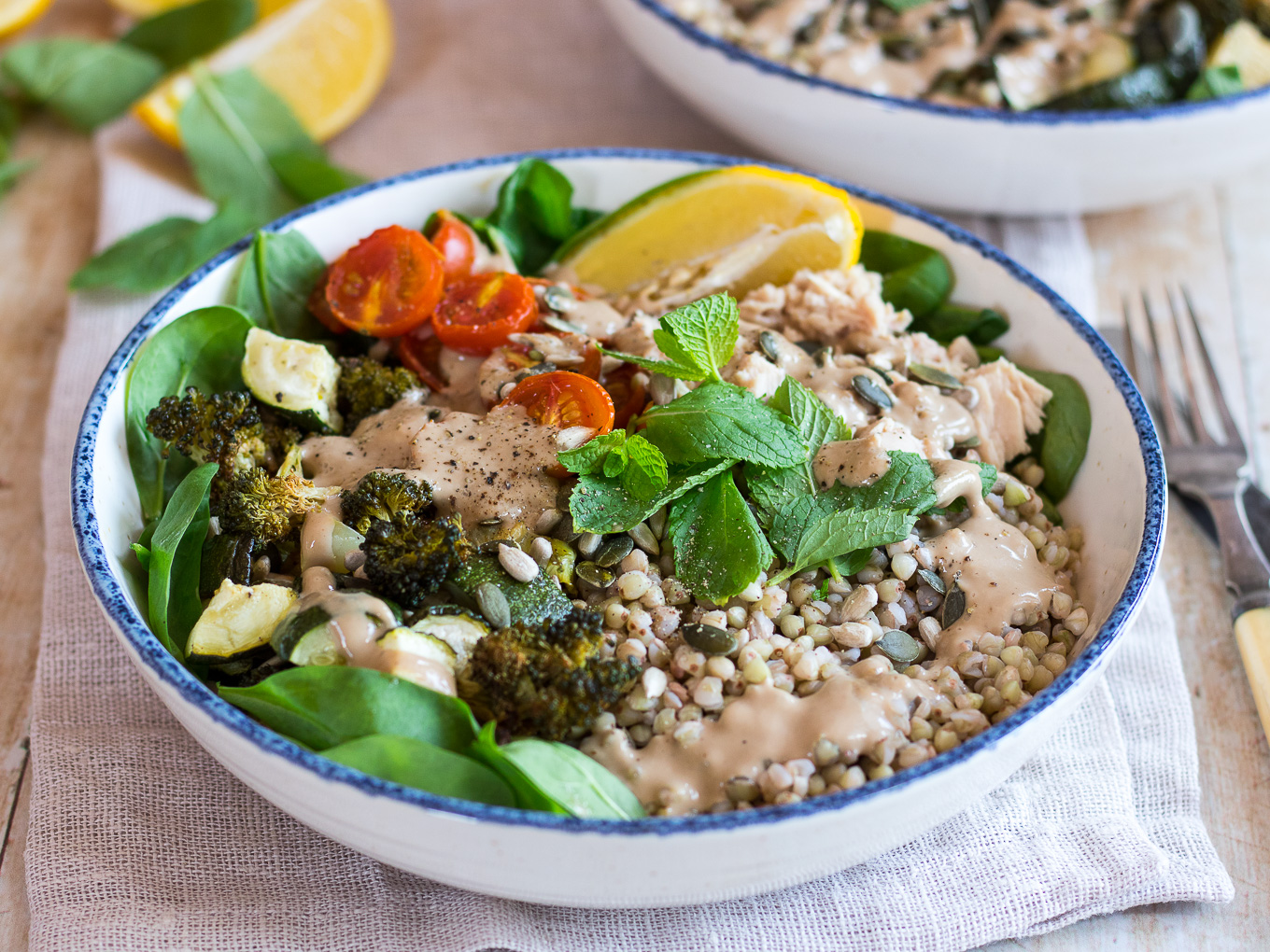 Creamy Balsamic Veggie Nourish Bowls are delicious and so easy to meal prep. This recipe is super flexible, pop in your favorite mix of veggies, grain and protein. The creamy balsamic dressing brings it all together!
---
Ingredients
Nourish Bowls
1/2

 

head

 

broccoli

 

– about 200-250 grams

1

 

large

 

zucchini

1

 

cup

 

cherry tomatoes

2

 

handfuls

 

baby spinach

 

or other salad greens

1

 

handful

 

fresh mint

1

 

tbsp

 

sunflower seeds

1

 

tbsp

 

pumpkin seeds

1/2

 

cup

 

buckwheat groats

 

or brown rice*

salt and pepper

 

to season
Creamy Balsamic Dressing
3

 

tbsp

 

tahini

 

(I prefer hulled tahini in this recipe)

2

 

tbsp

 

extra virgin olive oil

2

 

tbsp

 

balsamic vinegar

1

 

tsp

 

honey

 

– optional – if you prefer a less tangy dressing
Make the Nourish Bowls
Start by preparing the grain. If you're using buckwheat, bring a pot of water to boil with enough water to cover the buckwheat by at least one inch. Add in the buckwheat and cook at a gentle boil for 12 minutes, then drain the water and allow the buckwheat to cool (I usually spread it on a tray and let it cool on that – you could also strain it through a sieve and leave it in there to cool). If you're using another grain instead e.g. rice, prepare according to packet instructions.

---

Prepare the roasted veggies while the buckwheat is cooking. Preheat oven to 180 C. Chop the broccoli and zucchini into small, evenly sized pieces and arrange on a baking tray. Drizzle over a tablespoon of olive oil, season with salt and pepper, then roast for about 25 minutes. For the last 10 minutes, add in the cherry tomatoes too (just toss them onto the tray whole). Once cooked to your liking, remove veggies from the oven and allow to cool a little.
Make the Creamy Balsamic Dressing
Combine the tahini, olive oil and balsamic vinegar in a small bowl and whisk together. Add a few tablespoons of water to thin the dressing out, and whisk again. Repeat until you have a suitable consistency. Add the teaspoon of honey if the dressing is too tart for your liking. Season with a little salt and pepper as desired.
Assemble the Nourish Bowls
This recipe makes two bowls. So, grab two bowls or containers so you can divide everything evenly between them. Then, layer in your ingredients as follows – salad leaves, roasted broccoli and zucchini, buckwheat/other grain, roasted tomatoes, seeds, fresh mint.

---

Finish by drizzling over the dressing. If you've meal prepped these you may prefer to keep the dressing separate until you serve the bowl, but you don't have to. You can also top these bowls with your preferred protein e.g. chickpeas, salmon, halloumi, chicken, etc. 
---
 Quick notes:
I like these nourish bowls best with buckwheat or brown rice, however you could also use quinoa or even roasted sweet potato (if you want a grain-free option).

To make the salad dressing vegan you can swap the honey for maple syrup, if you're using it.

Please use the veggies as a guide only! Use whatever veggies you have around and make a beautiful, colourful bowl.
Website: nourisheveryday.com