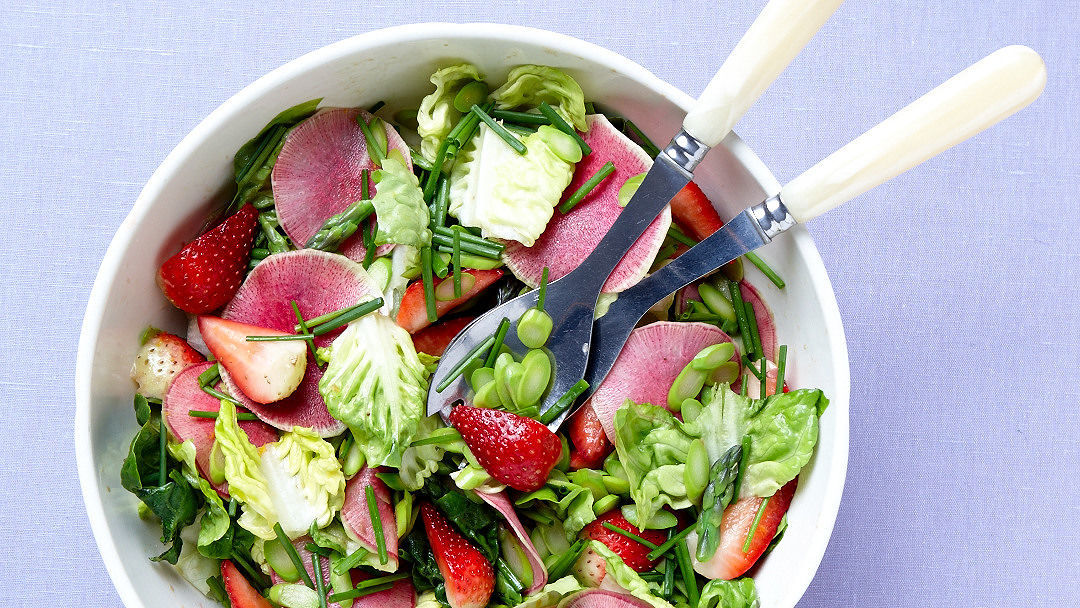 Strawberries are the season's best produce highlighted in this zesty, healthful starter. Make a refreshing salad full with vitamins. 
---
Ingredients
1 large or 2 medium watermelon radishes, trimmed

Fine sea salt

1 bunch (about 1 lb.) thin asparagus, trimmed

1 tsp. clementine zest

1/4 cup fresh clementine juice (from about 2 clementines)

1 Tbs. clover blossom honey (preferably local)

1-1/2 tsp. balsamic vinegar

4-1/2 oz. Little Gem or romaine hearts, torn (8 lightly packed cups)

8 oz. strawberries, hulled and quartered

1 Tbs. fruity extra-virgin olive oil

Freshly ground black pepper

1 handful fresh chives, sliced into 1-inch pieces (about 1/3 cup)
Slice the radishes paper thin (you will have a scant cup), and then put in a small bowl with enough cold water to cover.




---

Bring 1 inch of water to a boil with 1 tsp. of salt in a medium skillet; add the asparagus and simmer until just crisp-tender, about 90 seconds. Immediately drain in a colander and run cold water over the asparagus to cool.




---

In a small bowl, combine the clementine zest and juice, honey, vinegar, and a few pinches of salt.




---

When ready to toss the salad, thinly slice the blanched asparagus on the diagonal, leaving the tips whole. Transfer to a large salad bowl with the lettuce and strawberries. Drizzle the oil over the salad and toss to coat. Drain the radishes and pat dry; add to the salad, drizzle with the clementine mixture, and toss gently. Season to taste with salt and pepper.




---

Sprinkle with the chives and serve.