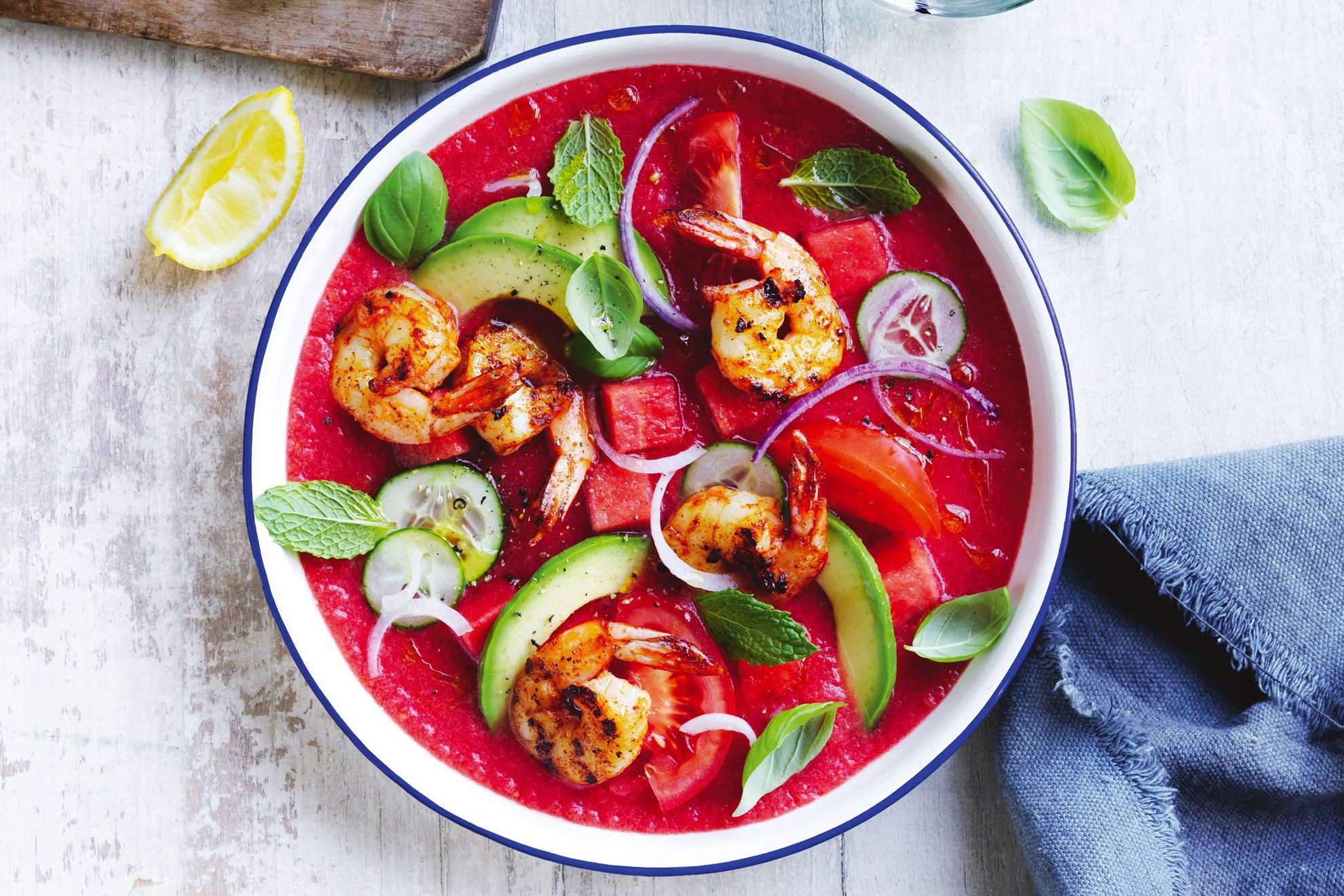 Put a spin on the traditional Anadalusian gazpacho! Add sweet, juicy watermelon and serve up a refreshing prawn salad with watermelon gazpacho summer soup that is always a crowd pleaser.
---
Ingredients
4 cups (about 600g) chopped seedless watermelon, divided

4 vine-ripened tomatoes, cut into wedges, cored, divided

2 tbs red wine vinegar

1/4 cup (60ml) extra virgin olive oil, divided

20 raw king or banana prawns, peeled leaving tails intact, deveined

1 tsp smoked paprika

2 avocados, pitted, peeled, sliced 

1 Lebanese cucumber, thinly sliced

1/2 small red onion, thinly sliced

1/2 cup basil leaves

1/2 cup mint leaves

Extra virgin olive oil, extra, to serve

Lemon wedges, to serve
Prepare a barbecue for high heat. In a blender, combine half the watermelon, half the tomatoes, red wine vinegar and 1 tsp salt. Blend until smooth. With the motor running, pour in 2 tbs oil. Season with salt and more vinegar, if necessary. Transfer to a large bowl. Cover with plastic wrap and place in the fridge to chill.




---

Toss the prawns with the remaining 1 tbs oil and paprika. Season with salt and pepper. Barbecue the prawns for 2 mins each side or until charred and cooked through.




---

Divide the gazpacho among four wide shallow bowls. Arrange the remaining watermelon, remaining tomatoes, avocados, cucumber, onion and prawns over the gazpacho. Sprinkle with the basil and mint and drizzle with extra oil. Serve with the lemon wedges.