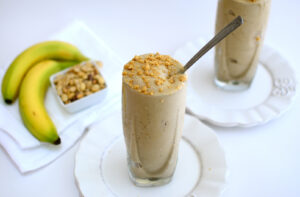 The ripe bananas have plenty of natural sweetness, and the peanuts are a great source of protein.
The texture of the blended frozen bananas is a lot like an ice cream milkshake, so enjoy! It can be your breakfast in a cup or the perfect thing to cool down after a run when, like me, you're just trying to stay on the cute side of chubby.
Ingredients
3 frozen bananas

1/4 cup peanut butter (smooth or chunky)

1 1/2 cups soy milk (or milk)

1/2 cup 2% greek yogurt

1 teaspoon honey

1/4 teaspoon salt

1 tablespoon chopped roasted peanuts
Description
Throw a few frozen bananas into a blender cup along with the peanut butter, soy milk, yogurt, honey, and salt. 




---

Blend until smooth. Top each with a teaspoon of chopped peanuts.
Website: chubbyvegetarian.blogspot.com