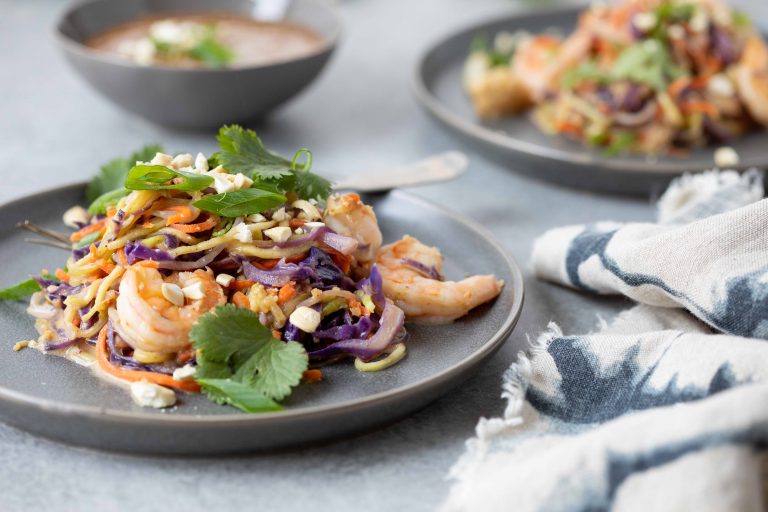 The traditional Pad Thai that so many of you love, made in a healthy paleo friendly way! With different variations and additional ingredients we made a perfect paleo dish.
---
Ingredients
2 medium zucchini, peeled

2 large carrots, peeled

2 green onions, chopped, white and green parts separated

1 cup shredded purple cabbage

1 cup cauliflower florets (May use broccoli if preferred)

1 cup bean sprouts

1 tablespoon avocado oil

1/2 lb large uncooked shrimp, peeled and deveined

1/2 cup fresh cilantro

Optional: chopped toasted cashews
Sauce:
1/4 cup tahini

1/4 cup almond butter (or cashew butter, or a blend of both)

2 tablespoons lime juice

1/4 cup coconut aminos

3 tablespoons coconut crystals*

1/2 teaspoon minced garlic

1 teaspoon grated ginger root
Use a spiralizeror mandolin to create noodles from the carrot and zucchini. Place them in a large mixing bowl lined with a clean dry towel and sprinkle them with sea salt. Set aside.




---

In a separate bowl, whisk together the sauce ingredients. The sauce will be thick, but will thin out after mixed with vegetables.




---

In a sauté pan, heat the avocado oil over medium-high heat. Add the cabbage, cauliflower, the white parts of the green onion, and bean sprouts. Sauté for 5 to 6 minutes, until the vegetables are crisp tender.




---

Add the carrot and zucchini noodles to pan. Stir and cook until the noodles have softened, about 2 minutes. Stir in the shrimp and continue cooking for 2 to 3 minutes, until the shrimp is no longer pink.




---

Pour sauce over mixture and toss until all combined. Garnish with cilantro, the green parts of green onion, and the toasted cashews. Season with salt and pepper to taste.