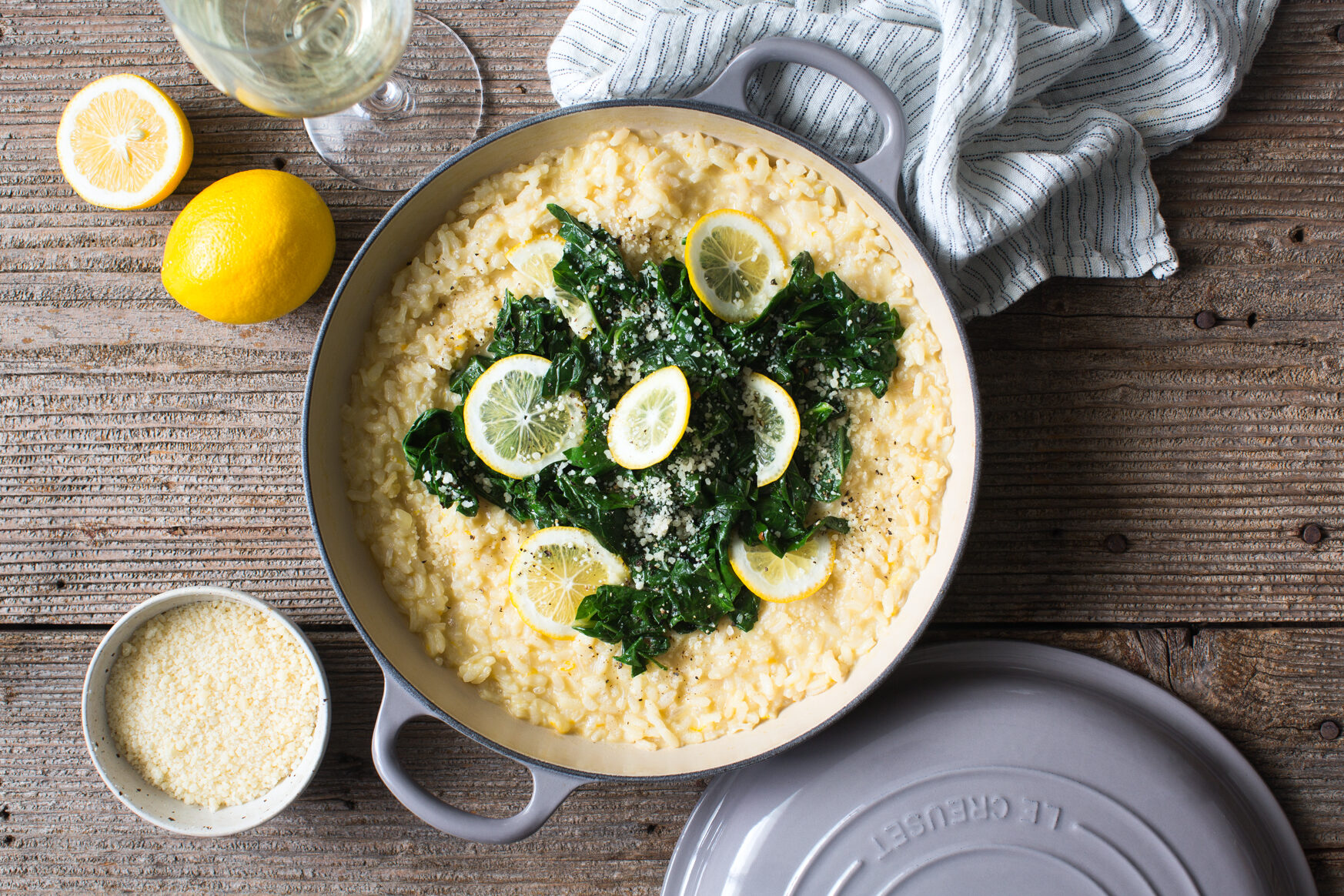 Easy and delicious dinner  – Meyer Lemon Risotto with Spicy Swiss Chard. It's refreshing and each bite is rich and creamy with a pleasant brightness from the Meyer lemon.
You could certainly enjoy this risotto as is, but I wanted to put some greenery on top to add a little contrast with each bite. Here, swiss chard is quickly cooked in a punchy oil flavored with garlic and crushed red pepper flakes.
---
Ingredients
5

 

cups

 

low-sodium chicken stock

3

 

tablespoon

 extra-virgin olive oil, divided

3

 

tablespoons

 

unsalted butter, divided

1/2

 

medium yellow onion, chopped

Kosher salt

1/2

 

cup

 

dry white wine

1

 

cup

 

risotto rice

1/2

 

cup

 

grated Parmesan cheese, plus more for sprinkling

1

 

tablespoon

 

Meyer lemon juice, plus more for squeezing

2

 

teaspoons

 

Meyer lemon zest

Freshly ground black pepper

3

 

garlic cloves, smashed

Crushed red pepper flakes

2

 

small bunches (about 1 pound) Swiss Chard, stems removed and chopped
Bring chicken stock to a simmer in a medium saucepan over medium heat. Once simmering, reduce heat to low, and keep warm.




---

In a large, heavy-bottom pot, warm 1 tablespoon olive oil, and 1 tablespoon butter over medium heat. Add the onion along with a pinch of




---

salt, and cook until the onion is tender but not browned (5 to 6 minutes). Stir in the rice and cook for 2 minutes, then add the white wine and cook for 1 more minute. Add 1 cup of warm chicken stock and a pinch of salt, and cook, stirring occasionally, until all of the liquid has been absorbed. Continue adding warm chicken stock 1/2 cup at a time, waiting until the stock is absorbed before adding again, and stirring frequently to make sure the bottom doesn't burn. Continue until the rice is cooked through, but still al dente, about 30 – 35 minutes total. You may not use all of the chicken stock.  Take the risotto off the heat, and stir in Parmesan cheese, 2 tablespoons butter, and Meyer lemon juice and zest. Season to taste with salt and black pepper.

---

During the last 5 minutes of cooking, warm remaining 2 tablespoons olive oil in a large skillet over medium heat.  Add the garlic and cook, turning once, until the cloves are golden brown.  Remove the cloves from the oil (discard or snack on later!), then add a pinch of crushed red pepper flakes and cook for 30 seconds.  Add the chopped greens and cook, stirring frequently, just until wilted (about 2 minutes).  Season to taste with salt.




---

To serve, spoon risotto into a bowl, and top with greens. Finish with a squeeze of Meyer lemon juice, a dusting of Parmesan cheese and a few turns of black pepper.