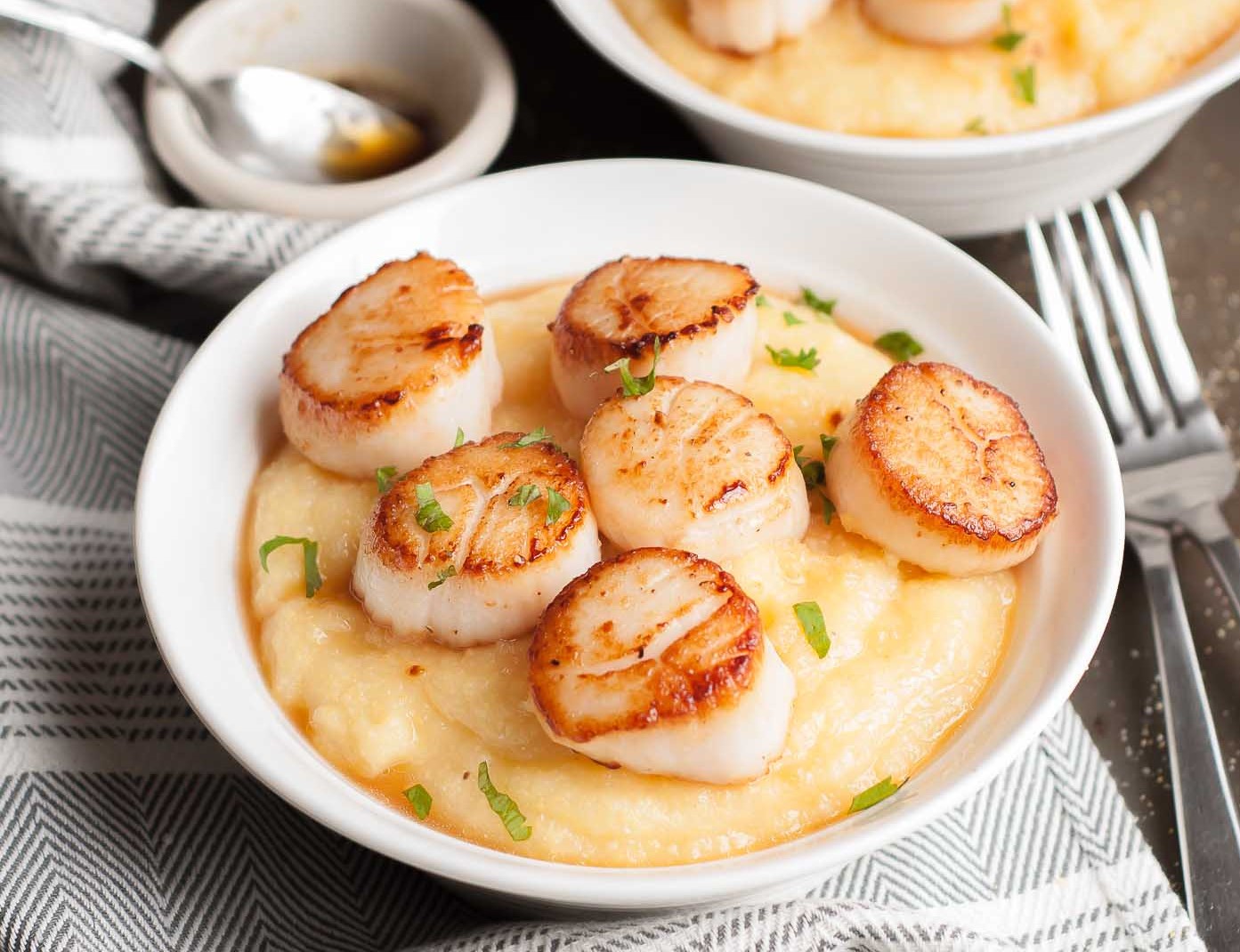 If you need something light, easy, and quick, these brown butter scallops with polenta are perfect for that! Beautifully seared scallops on the bed of creamy polenta all drizzled with garlic-y brown butter!
---
Ingredients
Polenta:
1 cup polenta

4 cups water or broth

pinch of salt

2 tbsp butter

1/3 cup grated Parmesan cheese
Seared Scallops:
1 pound jumbo scallops

1 tbsp oil for frying (something high heat, like canola or grape seed oil)

1 tbsp butter
Brown Butter:
2 cloves garlic, smashed

 3 tbsp butter
For the polenta: boil the water with salt in a medium pot. Slowly add the polenta, whisking constantly to avoid lumps. Bring water down to low and stir with the whisk until it just starts to thicken. Put the lid on over the pot and continue cooking for 20 minutes. Then uncover, stir, cover back again and cook for another 6-7 minutes. Turn off the heat and add Parmesan cheese and butter. Stir to combine and pour into the serving plates.


---

For the Seared Scallops: Heat oil in nonstick skillet. Pat scallops as dry as possible, sprinkle with salt and pepper and add to the hot pan. After 2-3 minutes, flip them over and add butter. Shake the pan gently to distribute the butter and sear for another 30 seconds to a minute. Then place straight onto the serving plates over the polenta.


---

For the Brown Butter: Put the smashed garlic cloves and butter in a clean skillet over medium heat and stir it while watching it closely – when the garlic starts to sizzle and the butter starts to look golden and foamy, remove from heat, discard the garlic and drizzle the butter over the scallops and polenta.
---
Quick Notes
If polenta is too thick, simply add some more water or broth to loosen it up a bit and whisk until smooth.