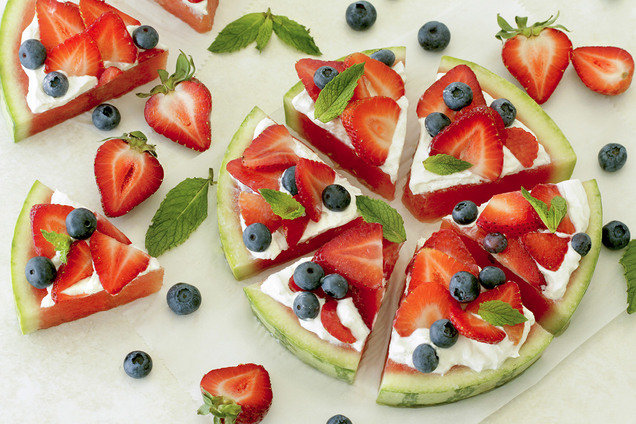 A new way to have watermelons… If you have some leftovers, try making this amazingly fun and delicious pizza dessert. It's perfect for warm-weather cookouts!
Ingredients
1/2 cup fat-free plain Greek yogurt

1/3 cup natural light whipped topping 

1 packet no-calorie sweetener 

1/2 tsp. vanilla extract

Dash salt

Two 1-inch-thick round seedless watermelon slices (cut from the center of a large watermelon)

3/4 cup sliced strawberries

1/3 cup blueberries

Optional garnish: fresh mint
---
Description
In a medium bowl, mix yogurt, whipped topping, sweetener, vanilla extract, and salt.




---

Spread yogurt mixture over both watermelon slices, leaving 1/2-inch borders.




---

Top with strawberries and blueberries. Slice into wedges.
Website: www.hungry-girl.com