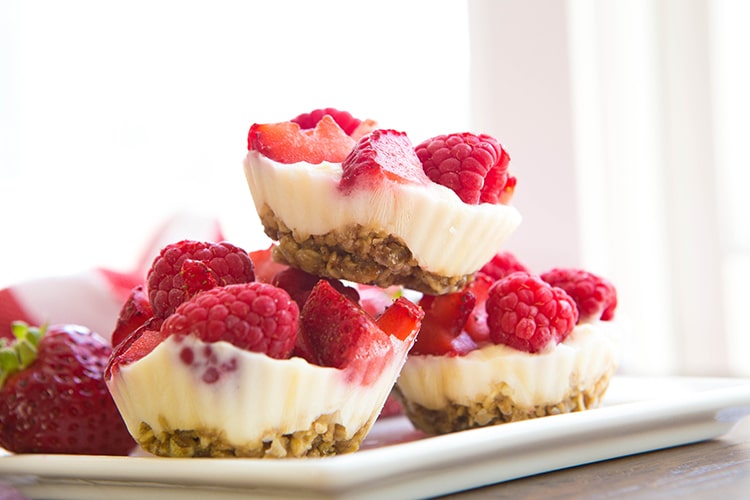 FroYo Berry Muffins are a healthy and refreshing dessert. All you need to do is mix all ingredients together and pop them into a muffin tin. After a few short hours in the freezer, you'll be ready to enjoy these light-and-refreshing treats! They make a great after dinner dessert or a midday snack!
Ingredients
1/4 cup crushed almonds or almond meal

2 tablespoons coconut sugar, (more for a sweeter FroYo Bite)

2 tablespoons coconut oil, melted

3/4 cup plain Greek yogurt, low-fat

2 tablespoons honey

1 1/2 cups fresh chopped strawberries and/or raspberries

6-cup muffin tin and liners
---
Description
Line a 6-cup muffin tin with silicone or parchment cupcake liners, or add directly to nonstick muffin tin.




---

In a small bowl, stir together crushed almonds, coconut sugar, and coconut oil. Spoon a small amount into the bottom of each muffin cup.




---

In a medium bowl, mix together yogurt and honey. Spoon 2 tablespoons into each muffin cup, covering the crust.




---

Top with fresh chopped berries. Freeze until firm, about 6 hours. To serve, remove from silicone wrapper and allow to set at room temperature for 8-10 minutes. Enjoy and rate our recipe!
Website: skinnyms.com