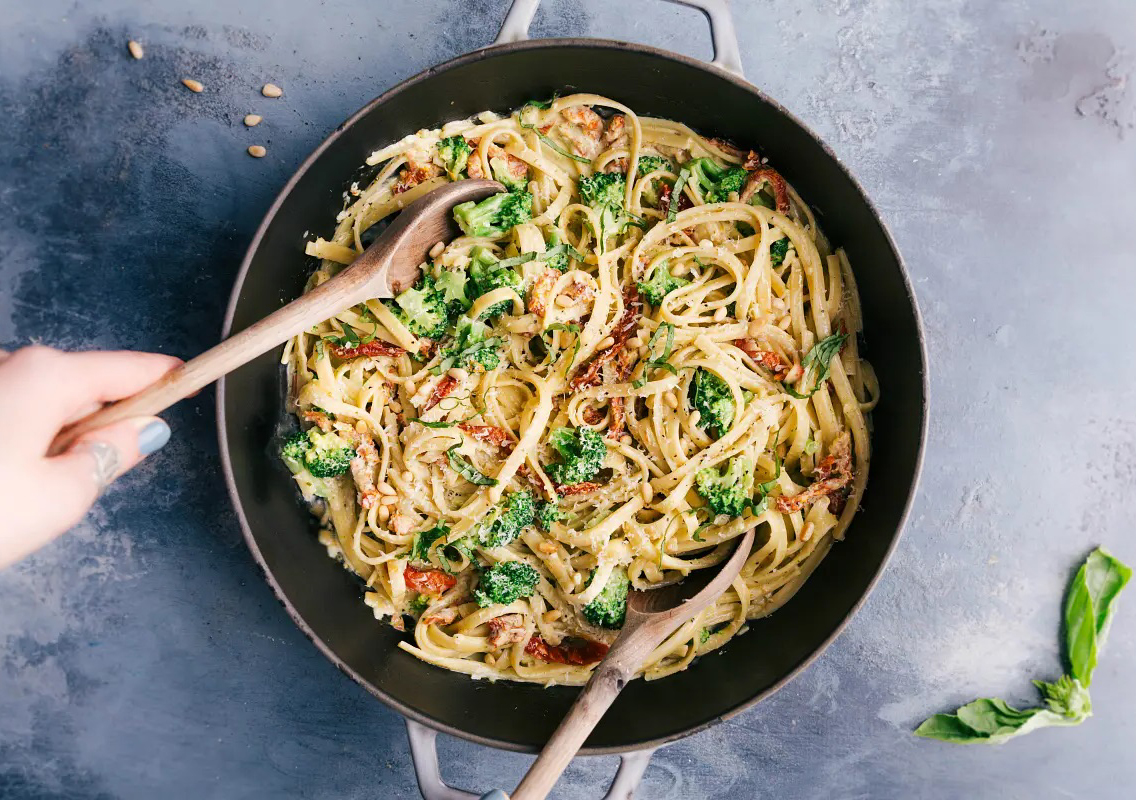 A creamy pesto pasta with fettuccine noodles, broccoli, and sun-dried tomatoes tossed in a flavorful pesto Alfredo sauce. This pasta dish is simple to make and can be ready in 30 minutes or less!
If you want to add in some protein to this creamy pesto pasta, we recommend adding chicken. I typically add in some shredded or sliced rotisserie chicken. Grilled chicken would also be delicious.
---
10

 

ounces

 

fettuccine noodles

 

(not an entire box!)

Fine sea salt and freshly cracked pepper

2

 

cups

 

chopped broccoli

2

 

tablespoons

 

unsalted butter

1 and 1/2

 

teaspoons

 

minced garlic

3/4

 

cup

 

heavy cream

1/4

 

cup

 

chicken stock

1/4

 

cup

 

prepared pesto

 

(See Note 1)

1/2

 

cup

 

freshly grated Parmesan

3/4

 

cup

 

sun dried julienne-cut tomatoes packed in oil

 drained 

(See Note 2)

Optional: 1/4 cup toasted pine nuts

(See Note 3)

, fresh basil, ribboned, additional Parmesan cheese for topping, red pepper flakes for heat.
---
Description
PASTA & BROCCOLI: Bring a big pot of water to a boil. Generously salt the boiling water; I add a heaping tablespoon of salt. Add in the 10 ounces pasta and cook according to package directions until al dente. 2-3 minutes before the pasta will be done, add in the 2 cups chopped broccoli into the boiling water and stir. Drain both and set aside for a minute.


---

PESTO SAUCE: Meanwhile, in a large skillet (big enough to hold all the pasta), add the 2 tablespoons butter. Heat over medium heat until melted and then add in the 1 and 1/2 teaspoons minced garlic. Stir for 1 minute or until fragrant. Lower the heat if it's sizzling or browning. Add in the 3/4 cup heavy cream and 1/4 cup chicken stock. Stir to warm through and then add in the 1/4 cup prepared pesto and 1/2 cup freshly grated Parmesan cheese. Season the sauce to taste; I add in 1/4 teaspoon pepper and 1/4 teaspoon salt. Stir until cheese is melted and sauce is smooth. Lower the heat to low and add in the sun-dried tomatoes.


---

TOSS IN PASTA: Add the drained and hot pasta and broccoli right on top of the sauce and toss with tongs to combine. Taste and adjust seasonings; you may need an extra splash of heavy cream and/or chicken stock and an extra spoonful of pesto depending on how much sauce the pasta is absorbing. Remove from heat and divide into plates.


---

FINISHING: if desired, top individual plates with additional freshly grated Parmesan cheese, toasted pine nuts 

(See Note 3)

, fresh basil, and an extra sprinkle of freshly cracked pepper (or red pepper flakes if you'd like some heat).
---
Note 1: the pesto is the most important ingredient in the cream sauce! You'll want to get freshly made basil pesto (or make your own!) not the preserved/jarred pesto. Freshly made pesto is typically near fresh (not dried) pasta or in the produce section of the store. 
Note 2: I like to get the sun-dried tomatoes packed in oil and herbs because they add lots of flavor with no extra effort! I recommend getting the cut tomatoes to save you the step of chopping. 
Note 3: to toast pine nuts, in a small saucepan over low heat, place the pine nuts. Lightly toast them until fragrant by stirring them over the low heat for about 2-4 minutes.
---
Quick Tips:
Salt the pasta water: make sure the pasta is well-salted as it cooks. Salting the water is the only chance you have to season the actual pasta. I add 1 tablespoon fine sea salt when the water comes to a boil. Then wait until the water returns to a full boil before adding in the pasta. 
Increase the sauce as desired: I like to keep the heavy cream, pesto, and chicken stock by the pot and will occasionally add an extra splash of cream and/or stock and an extra spoonful of pesto after tossing everything together. Sometimes the pasta absorbs more sauce or you just want an extra saucy meal.
Grate Parmesan on a microplane: the microplane gives the Parmesan a super light and amazing texture. It melts beautifully into the sauce and tastes delicious on top of this creamy pesto pasta.
Toast pine nuts: this step only takes a couple extra minutes and really amps up the flavor. To toast pine nuts, add them to a dry skillet and heat over low heat. Stir until fragrant and every so slightly browned, about 2-4 minutes.
Website: www.chelseasmessyapron.com