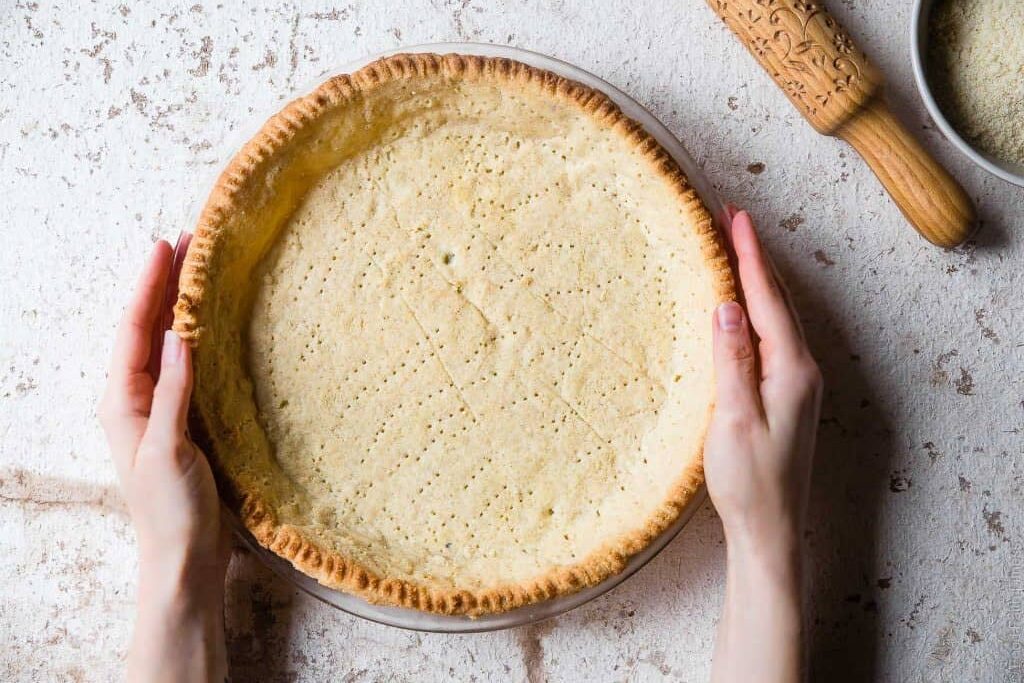 This gluten free Low Carb Paleo Almond Flour Pie Crust Recipe is so flaky, tender and easy to make you'll never know it's better for you!
---
Ingredients
1

 

Cup

 

Almond flour

 

(100g)

1/2

 

Cup

 

Tapioca starch

 

(65g) 

3

 

Tbsp

 

Coconut flour

 

(21g)

2

 

Tbsp

 

Monkfruit

3/4

 

tsp

 

Sea Salt

5

 

Tbsp 

Cold butter, 

cut into tiny pieces

1

 

Egg yolk

2

 

tsp

 

Ice water
Line the bottom of a 9 inch pie plate with a circle of parchment paper. (I just trace it and cut it out, using cooking spray to adhere it down.)




---

In a large bowl, mix together your almond flour, tapioca starch, coconut flour, monkfruit and salt.




---

Cut in the butter, until it is broken down into pea-sized balls and the mixture is crumbly, almost like very thick streusel crumbs.  I prefer to use my hands for this, but you could also use a pastry blender or a food processor!




---

Add in the egg yolk and ice water and use your hands to mix until it forms a ball, making sure you get that egg yolk nice and mixed. Pat it into a disc, wrap with saran and chill for at least 2 hours.




---

Once chilled, roll it between 2 layers of parchment paper to just under ¼ inch thick and preheat your oven to 375 degrees.




---

Gently flip the parchment paper right over onto the prepared pie plate and very gently pull the parchment off, using your hands to fix any cracks, and shape the sides. The crust will stick in spots, so just be very gentle pulling the parchment off.  Since there is no gluten, this crust can handle being worked, so you can stick together any pieces that fall of, or any holes, after the crust is off the parchment. You will probably have a little excess pie crust, this is normal!




---

Poke holes all over the bottom with a fork and bake until the bottom is lightly golden, and the sides are a deep golden, about 15-17 minutes. If you don't want the crust to brown too much before baking again with a filling, bake it for 8 minutes and then gently tent tin foil over top and bake an additional 9-10 minutes until lightly golden.




---

Let cool and then fill!
Website: www.foodfaithfitness.com