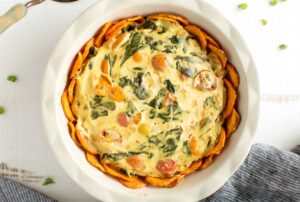 Vegan veggie quiche with sweet potato crust with a secret ingredient. Wholesome, healthy, filling and delicious. Perfect for an easy brunch of breakfast! To make this quiche healthier I opted to use sweet potatoes for the crust. 
Ingredients
2 medium sweet potatoes

1 tsp olive oil

1 small yellow onion (finely chopped)

2 minced garlic cloves

1 cup cherry tomatoes (halved)

4 cups spinach

12 oz firm silken tofu

3 Tbsp nutritional yeast

1 Tbsp olive oil

1 garlic clove

¼ tsp sea salt

¼ tsp pepper

¼ tsp ground sage

Chopped green onion for garnish (optional)
---
Description
Preheat oven to 375 degrees. Spray the bottom of a 9 inch (standard) pie dish with non stick cooking spray.




---

Peel and slice your sweet potatoes into ⅛ inch rounds. Layer your dish with the rounds to form a "crust" (see photo). Slice rounds in half to form the upper layer. Spray the sweet potatoes well with non stick cooking spray (I used this one) and sprinkle with sea salt and pepper.




---

Bake for 20 minutes.




---

While the sweet potato crust bakes start on your veggies. In a medium skillet over medium/high heat heat your oil and add your onions. Sautee for a minute, then add the garlic and halved tomatoes. Cook for 2 more minutes. Add spinach and cook until fully wilted. Remove pan from heat and set aside.




---

To make your tofu filling blend the tofu, nutritional yeast, olive oil, garlic, s&p and ground sage in a food processor or blender. Blend until completely smooth.




---

Add the tofu filling to the veggies and mix gently until fully combined.




---

Once your potato crust is done cooking add your filling and smoothing out the top.




---

Bake for 30 minutes or until the filling is just starting to brown.




---

Remove from the oven and let sit for 5 minutes.




---

Slice and serve. Enjoy!
Website: www.nutritionalfoodie.com