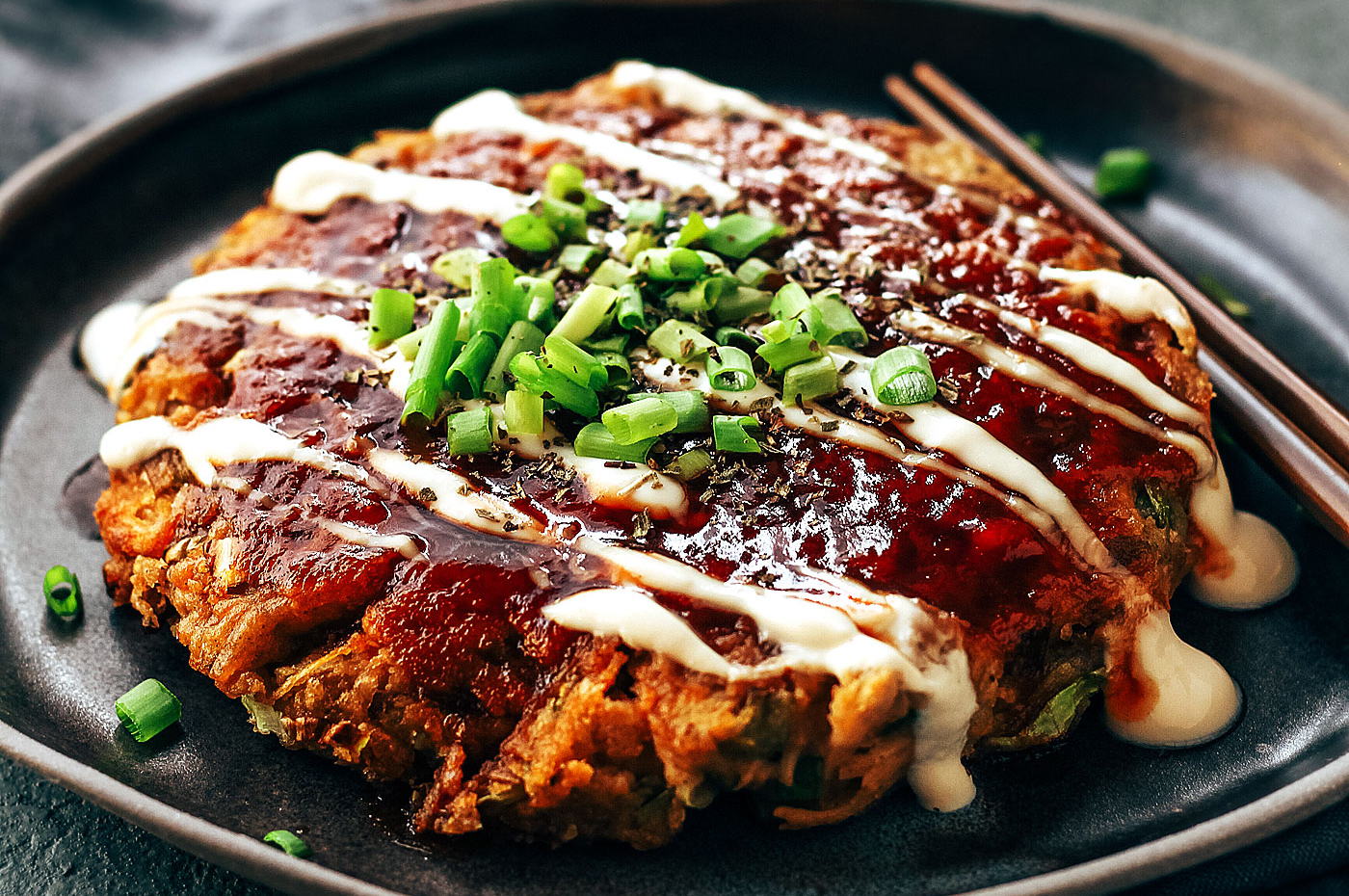 I'm super excited to share this recipe with you friends! Okonomiyaki is a Japanese savory pancake that is loaded with shredded cabbage and green onions, topped with a sweet tomato sauce, and finally drizzled with mayonnaise. It's very flavorful, hearty and easy to prepare.
Jackfruit
1 20-ounce can young green jackfruit

1 tbsp sesame paste (or 1 tbsp peanut butter mixed with 1/4 tsp sesame oil)

1 tbsp soy sauce

1 tbsp maple syrup
Okonomiyaki 
1/2 cup oat flour

1/2 cup buckwheat flour

2 tbsp ground flax seeds

2 tbsp ground dried shiitakes

1/2 tsp salt

1/2 tsp five spice powder

1 cup water

1 cup cabbage, finely shredded

1/2 cup chopped green onions

1/4 cup coconut bacon

1 tbsp chopped marinated ginger

toppings: okonomiyaki sauce, vegan mayonnaise (store-bought or homemade), green onions, aonori seaweed (optional)
Okonomiyaki Sauce
1/4 cup ketchup

2 tbsp vegan Worcestershire sauce

1 tbsp soy sauce

2 tbsp maple syrup
---
Description
Jackfruit:
Drain and rinse the jackfruit. Chop off the center (the hard part) and discard. Roughly mash the jackfruit with a fork. Transfer to a bowl, add the sesame paste, soy sauce, and maple syrup. Stir well to coat the jackfruit with the sauce.




---

Heat a teaspoon of oil in a skillet. Once hot, add jackfruit and cook for 3-5 minutes. Remove from heat and set aside.
Okonomiyaki:
Combine the oat flour, buckwheat flour, ground flax seeds, ground shiitakes, salt, and five spice powder in a large mixing bowl. Add the water and whisk until no clumps remain.




---

Stir in the shredded cabbage, chopped green onions, coconut bacon, chopped marinated ginger, and jackfruit. Mix well with a spoon until all the ingredients are coated with the batter. Let it rest 5 minutes.




---

Heat a large non-stick skillet over medium heat. Once hot, add one tablespoon oil. Pour 1/3 of the okonomiyaki batter into a pancake shape in the skillet. I like to make thick okonomiyaki, a bit less than 1-inch thick. Cover and cook for about 5 minutes, or until the bottom is golden brown.




---

Carefully flip, cover and cook for another 7-9 minutes. Once both sides are golden brown, transfer to a plate, top with about 1 tablespoon okonomiyaki sauce and drizzle with mayonnaise.




---

Serve immediately topped with more chopped green onions, and aonori seaweed.




---

The batter will keep for up to two days, covered, in the refrigerator. You might have to add a few tablespoons of water if it has thickened too much.
Okonomiyaki Sauce:
Mix all the ingredients together in a small bowl.