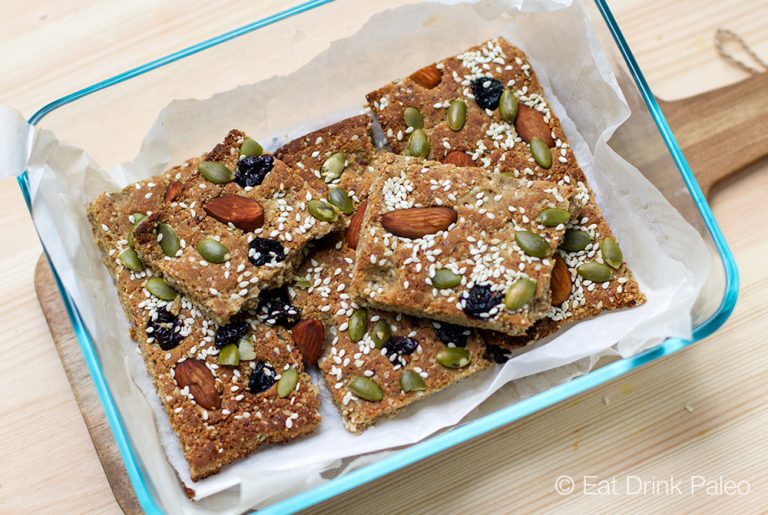 Good quality paleo protein bars are super convenient for those in a rush or as a quick post-workout protein snack!
These protein bars are inspired by a traditional breakfast muesli bar.  Sometimes I will have them with my morning coffee when I don't have the time to prepare a full meal and I find them very satiating. I also love having one of these in a bag for when I get caught out with no paleo options on the run, and my partner, who is trying to eat more protein (and eat more in general to put on some body mass) is a fan of these as well. They should not become a regular replacement of a nourishing meal but they are handy to have around.
---
1 cup almonds (about 100 grams)

1 cup Brazil nuts (about 100 grams)

1/3 cup pumpkin seeds (about 50 grams)

salt

7 large Medjool dates (with or without pits)

1/3 cup sesame seeds

5 tablespoons coconut oil

1 tablespoon honey (optional)

1 tablespoon vanilla essence

1/2 cup protein powder, about 60-70 grams 

1/4 cup dried cranberries
---
Description
Add the almonds, Brazil nuts and pumpkin seeds to three separate bowls. Add a pinch of salt to each and cover with water. Add Medjool dates to another bowl with water. Soak all for 4-6 hours.




---

After 4 hours, preheat oven to 175 °C/345 °F.




---

Strain and rinse the nuts. Reserve a small handful of almonds and pumpkin seeds and add the rest to a food processor. Strain the dates, remove the pits and add the flesh to the food processor as well. Reserve a tablespoon of sesame seeds and add the rest to the processor too.




---

Grind everything together for about a minute, stopping and scraping the sides a few times. Add coconut oil, vanilla and honey and process for a further 30 seconds to a minute, scraping the sides a couple of times.




---

Now add the protein powder of your choice and continue to process the mixture for a further minute or two. At first, when you add the protein powder, it might seem that the mixture is too dry but as you continue to grind everything together, the nuts will release more oils and moisten the dough. The consistency you're looking for is finely ground nuts, sticky mixture that comes away from the sides and that moulds easily in your fingers, a little oily.




---

Line a shallow baking tray with a piece of parchment/baking paper. Grease with a little coconut oil. Transfer the nut mixture to the middle of the tray and spread out evenly. Use your fingers to press down the mixture into an even layer, about 1 -1.5 cm thick. Fill in any gaps or cracks, even if that means cutting the edge of the slice off and using up that mixture to even out thinner areas. You can place another piece of parchment paper on top and use a rolling pin to even out the top.




---

Sprinkle the reserved sesame seeds, almonds and pumpkin seeds over the top and press them down into the slice with your fingers. Do the same with the cranberries. Make sure they are pressed down deep enough.




---

Place the tray in the oven, middle shelf, for 10-12 minutes. Then remove the tray and let it cool completely. Lift the parchment paper with the slice out of the tray and place it on a cutting board. Slice into rectangular or square bars, you should have about 8-10 depending on how you slice them.




---

Store protein muesli bars in an air-tight container for a week out of the fridge and for 2-3 weeks in the fridge. You can wrap the bars in some glad wrap individually so they are ready to go in your bag/lunch box.
Website: irenamacri.com