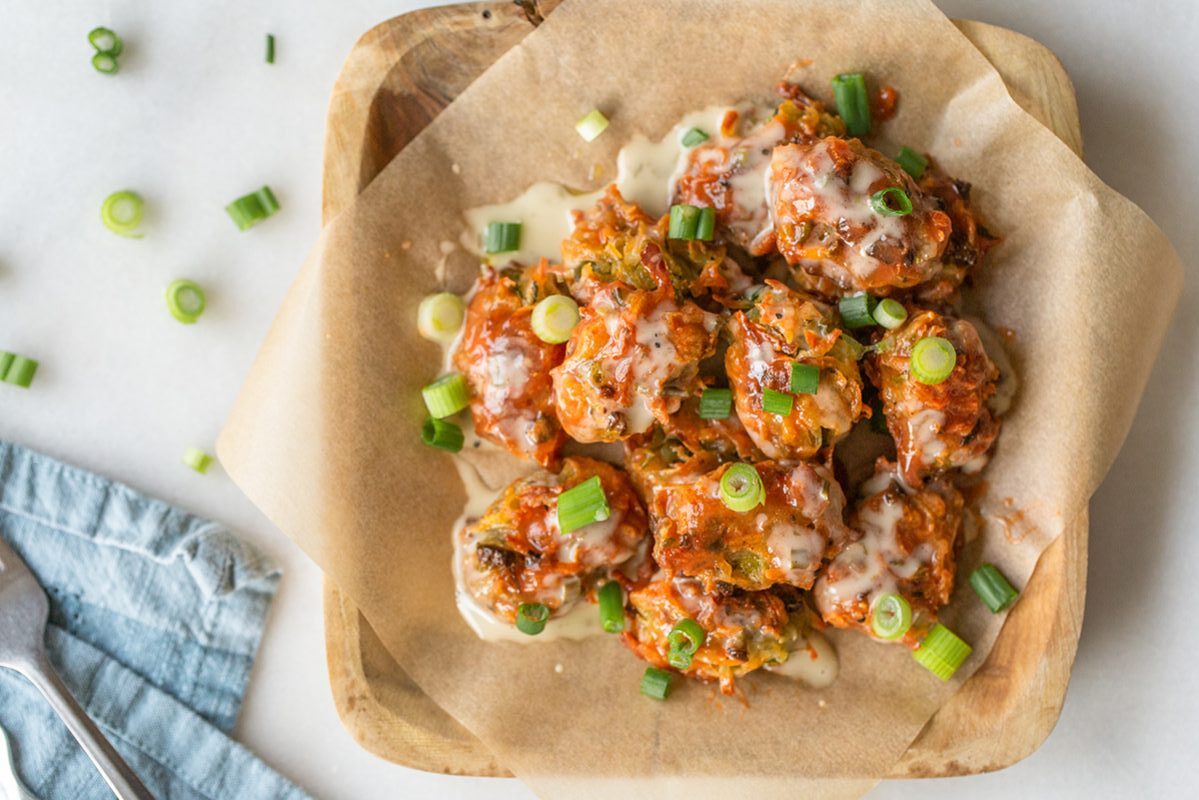 Introducing paleo buffalo ranch tater tots. A game day recipe favorite, an appetizer that WOWs, and a healthy version of a comfort-food classic you'll crave on the daily. It's everything awesome in tot form!
---
Ingredients
2 tablespoons olive oil, divided

2 cups shredded potatoes

1/3 cup finely diced green bell pepper

2 tablespoons arrowroot powder

3/4 teaspoon salt

1/2 teaspoon garlic powder

1/2 teaspoon onion powder

1/4 teaspoon black pepper

3 tablespoons buffalo sauce

1 tablespoons paleo compliant ranch 

1–2 tablespoons sliced green onion
Preheat the oven to 400 degrees. Line a baking sheet with tin foil and coat with 1 tablespoon of the oil.




---

Place the shredded potatoes in a bowl and cover them with cold water. Swish them around and drain them in a fine mesh strainer. Rinse and drain the potatoes again, and then pat them dry with a paper towel – this helps remove some of the starch.




---

Place the potatoes in a microwave safe bowl and microwave for 1 minute.




---

Add the bell pepper, arrowroot powder, salt, garlic powder, onion powder, and black pepper to the bowl with the shredded potatoes and mix well.




---

Scoop the tater tot mixture into tablespoon sized balls and roll them gently to create a cylinder shape.




---

Place them on the baking sheet when they're shaped. Don't worry if you have to ring out some of the moisture in your hands while shaping them.




---

Drizzle the tater tots with the remaining olive oil and place them in the oven for 15 minutes.




---

Carefully flip them after the 15 minutes is up, using a spatula or fork if needed. Return the baking sheet to the oven and bake for an additional 10 minutes, or until the tots are golden brown and crispy.




---

Add them immediately to a bowl and toss with the buffalo sauce.




---

Transfer to a plate or basket, drizzle with the ranch and sprinkle with the green onion.




---

Serve while hot & enjoy!