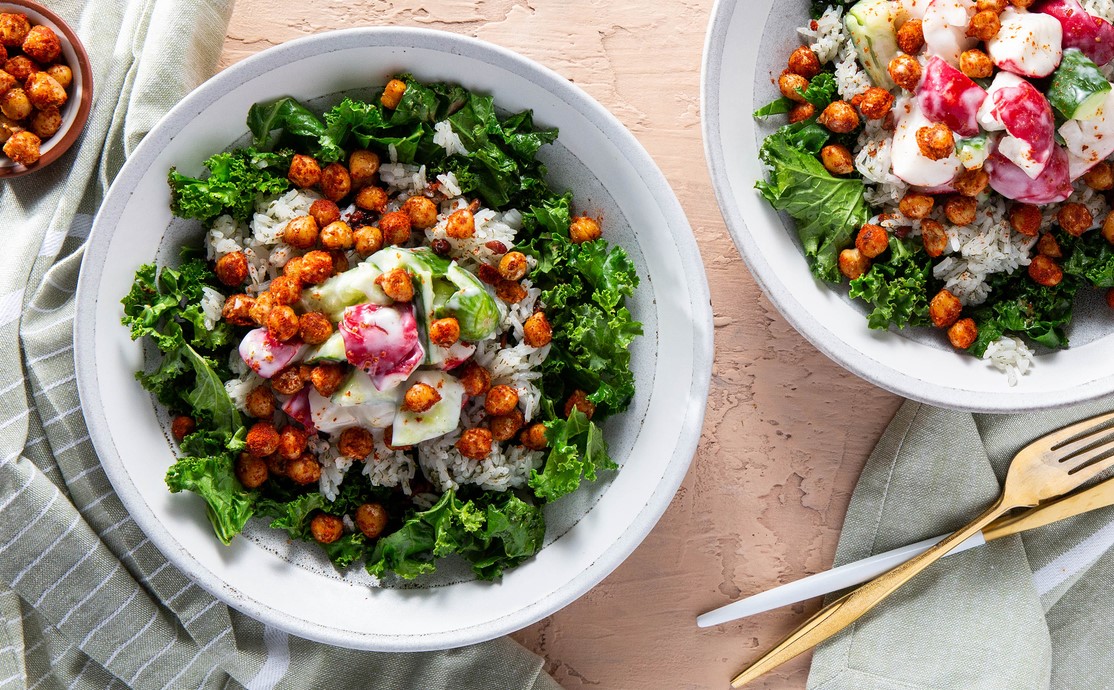 This Kashmiri Chickpea Bowls are served with yogurt smashed vegetables pomegranate pilaf. It is a light dinner on a hot summer day!
---
Ingredients
½ cup jasmine rice

13.4 oz chickpeas

4 oz curly kale

1 cucumber

4 radishes

1 garlic clove

1 lemon

¼ cup greek yogurt

2 tsp Kashmiri chile powder

1 tsp dried dill

2 tbsp dried pomegranate seeds

2 tbsp +2 tsp olive oil

Salt and pepper
Preheat the oven to 400°F. Combine jasmine rice, 1 cup (2 cups) water, and a pinch of salt in a small saucepan and bring to a boil. Cover, reduce heat to low, and cook until water is absorbed and grains are tender, 14 to 16 minutes.




---

Destem the kale and roughly chop the leaves. Lay the cucumber(s) and radishes on a cutting board. Smash the vegetables by using the flat side of a knife and applying pressure with the heel of your hand until the vegetables split. Tear the smashed vegetables into bite-size pieces. Peel and mince the garlic. Halve and juice the lemon(s).




---

Drain and rinse the chickpeas, and pat dry. Place chickpeas on a baking sheet and toss with 1 tbsp (2 tbsp) olive oil, Kashmiri chile powder, and a pinch of salt. Roast until crispy, 12 to 15 minutes.




---

Add the minced garlic, 1 tbsp (2 tbsp) lemon juice, Cashewgurt, and a pinch of salt and pepper to a medium bowl and stir. Add the smashed cucumber(s) and smashed radishes to the yogurt dressing and toss to coat.




---

Heat 1 tsp (2 tsp) olive oil in a large skillet over medium-high heat. Add the chopped kale and a pinch of salt and pepper, and cook until the greens are wilted, 1 to 2 minutes.




---

Fluff the cooked jasmine rice with a fork and add the dried dill, pomegranate seeds, 1 tsp (2 tsp) olive oil, and remaining lemon juice. Gently stir the pomegranate pilaf to combine. Divide the pomegranate pilaf and cooked kale between shallow bowls. Top with kashmiri chickpeas and yogurt smashed vegetables.