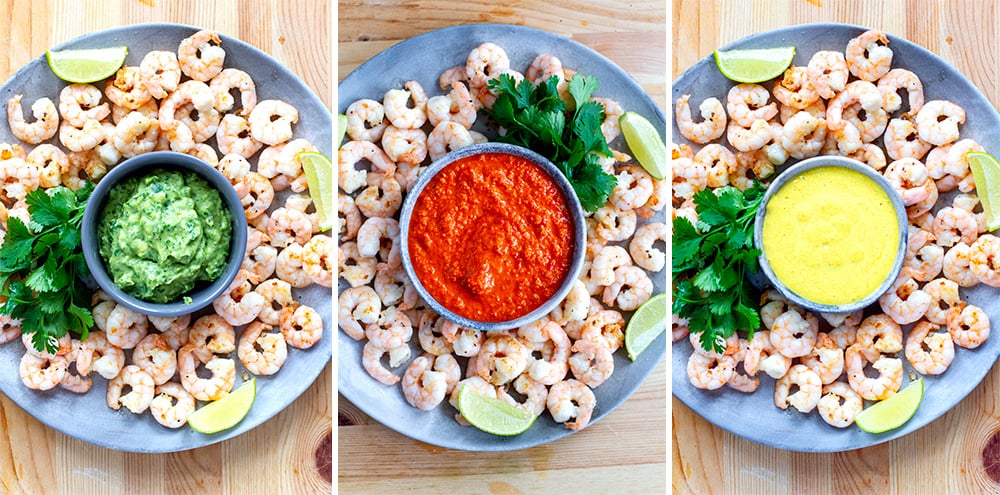 Easy grilled shrimp served with three festive sauces: red Romesco, golden curry aioli and zesty green avocado. I like to refer to this dish as 'party shrimp' because it's great as finger food with a glass of wine or as a starter for your next dinner party. This recipe is gluten-free, paleo and low-carb friendly.
---
Ingredients
Fritters:
450-500 g / 1 lb  raw shrimp or prawns, peeled

2 tbsp olive oil

A little salt and pepper
Romesco sauce (red):
1 cup sliced pickled red peppers

1/2 cup toasted almond flakes

2 cloves garlic, diced

Juice of 1/2 lime or lemon

1/4 cup olive oil

1/4 cup water

1/4 tsp salt
Curry Aioli Sauce:
3-4 tbsp mayonnaise

2 tbsp plain yoghurt or dairy-free alternative

1 clove garlic, diced

1/2 tsp turmeric powder

1 tsp curry powder

1/4 tsp hot mustard (optional, can be regular)
Green Avocado Sauce:

1 ripe avocado, scooped and diced

1/2 cup coriander/cilantro leaves

2-3 slices of green or red chili

1 tbsp chopped spring onions/scallions

1 clove garlic, diced

Juice of 1/2 lime

1/4 tsp salt

2 tbsp olive oil

2-3 tbsp water
to serve with:
handful of baby spinach

handful finely chopped herbs (I used coriander)

1

 

dollop hummus
---
Description
Make the sauces first. For the red and the green sauce, I used a food processor. Add all ingredients and whiz together to process. I stop and open the lid a couple of times to scrape the bits off the sides and to stir the sauce slightly, then whiz again to make sure everything is incorporated and blended.


---

The Romesco sauce doesn't have to be completely smooth, it should have a little texture. For the green sauce, you can add a little more water if you like it thinner.




---

For the curry ahioli sauce, I used a small blender beccause it's a smaller batch. You can also whisk all ingredients in a bowl as you don't need to process any firm ingredients. Use grated garcli in this case.


---

How to cook the shrimp. Heat a large frying pan or a griddle pan over medium-high heat. Once really hot, add the olive oil. Add the shrimp in two batches, as to not overcrowd the pan. Cook for 1 minute on each side, until they change coloul and get that little golden glow. Season with just a touch of salt and pepper and transfer to a bowl.


---

You can plate the cooked shrimp on a large platter with all three sauces or pick one of the sauces and go with that.
---
 Quick notes:
Store leftover sauces in the fridge for 4-5 days (1-2 days for the avocado sauce!). Below nutritional breakdown is for the shrimp without sauces.

Romesco sauce nutrition (per 2 tablespsoons): 169 cal, 15 g fat, 5.5 g carbs, 2 g fibre, 3 g protein.

Curry aioli sauce (per 1 tbsp): 65 cals, 6 g fat, 0.5 g carbs, 0.7 g protein.

Green avocado sauce (per 1 tbsp): 80 cals, 8 g fat, 2.5 g carbs, 1.5 g fibre, 0.5 g protein.
Website: irenamacri.com