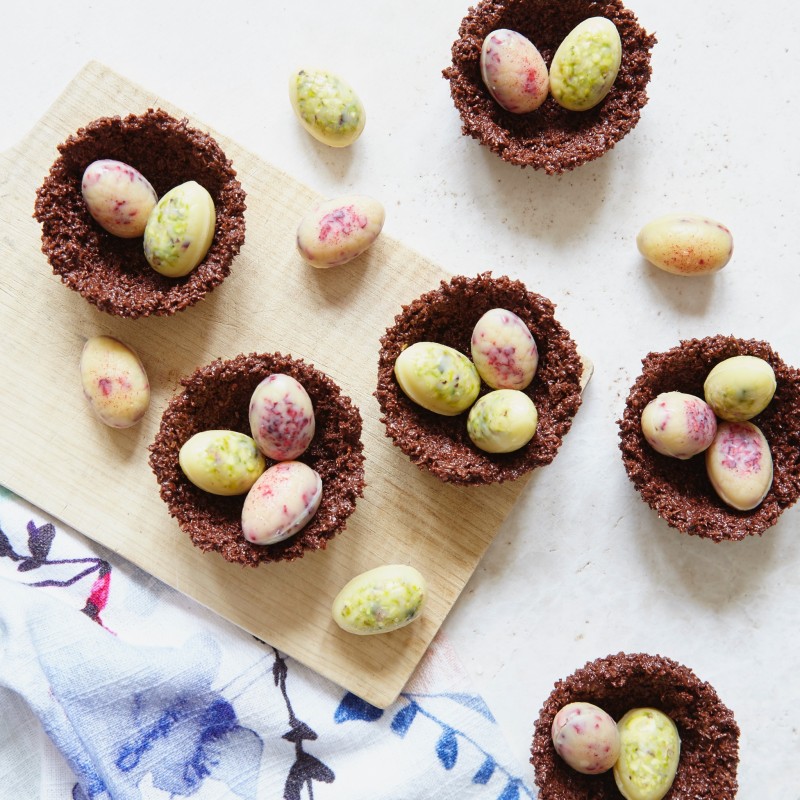 Making these little Easter eggs adds that extra special touch. I use desiccated coconut for a luxurious taste, then fill the eggs with crunchy pistachios.
---
Ingredients
Nests
120g good quality dark chocolate

1 tbsp honey

100g desiccated  coconut

4 tbsp almond milk
Eggs
110g cacao butter

2 tbsp honey

½ tsp vanilla extract

1 tsp freeze-dried raspberries

1 tsp finely chopped pistachios
---
To make the nests: Melt the chocolate and honey together on a low heat, then add the desiccated coconut and milk and stir well. Pour the mixture into 8 cupcake cases to mould the nests. Leave to set in the fridge for 1 hour.


---

To make the eggs: Melt down the cacao butter with the honey on a low heat. Take off the heat and stir in the vanilla. Divide the mixture into two and place the raspberries in one and chopped pistachios in the other. Pour the mixture into the small egg moulds and refrigerate for 1 hour.


---

Place the eggs in the nests and sprinkle with more desiccated coconut.
Website: madeleineshaw.com