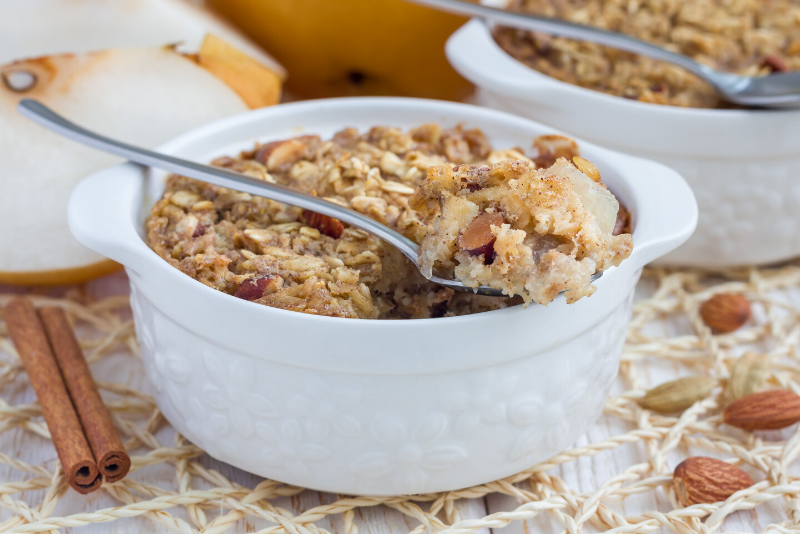 A healthy alternative to traditional cobbler. This No Added Sugar Pear Cobbler is the perfect easy, healthy dessert to make for the holidays or when your next sweet craving strikes.
---
For cobbler:
4 cups (around 3 large) fresh pears cut into small pieces

2 teaspoons lemon juice

3 tablespoons whole wheat pastry flour

1 tablespoon chia seeds

1/2 teaspoon cinnamon

1/4 teaspoon salt

1/4 teaspoon pumpkin spice (optional)

1/2 cup mixed unsalted nuts

Cooking spray
For topping:
1/4 cup granola

3 tablespoons butter, melted (or 3 tablespoons avocado oil)
Preheat oven to 350 degrees Fahrenheit.




---

Spray a shallow pie dish with cooking spray and set aside.




---

In a large bowl, combine pears with lemon juice, flour, chia seeds, cinnamon, salt (and pumpkin spice, if desired). Stir in nuts.


---

Place pear mixture evenly into pie dish.




---

In a small bowl mix the granola with melted butter.




---

Top the pear mixture evenly with granola mixture.




---

Bake at 350 degrees Fahrenheit for around 45 minutes or until topping is golden brown.




---

Serve pear cobbler when warm in individual dessert bowls and top with a scoop of frozen yogurt or vanilla ice cream, if desired.