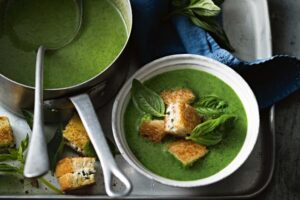 Cream of spinach soup with fetta croutons – need we say more? You'll want to savour the taste of this soup for a long time to come.
3 cups Massel vegetable liquid stock

2 bunches English spinach, stems removed, leaves washed

Fresh basil leaves, to serve
FETTA CROUTONS
2 tablespoons chopped fresh basil leaves

4 slices white toast bread
---
Description
Melt butter in a large saucepan over medium heat. Add onion and garlic. Cook, stirring, for 5 minutes or until onion softens. Add potato, stock and 2 cups of water. Bring to the boil. Reduce heat to low. Simmer, covered, for 20 minutes or until potato is tender. Add spinach. Cook, stirring, for 2 minutes or until spinach wilts. Cool for 10 minutes.




---

Meanwhile, make Fetta Croutons Place fetta and basil in a bowl. Season with pepper. Stir well to combine. Spread both sides of each slice of bread with butter. Place 1/2 the fetta mixture onto 1 slice of bread, pressing gently to compact. Repeat with 1 more bread slice and remaining fetta mixture. Top each with remaining bread slices. Heat a frying pan over medium-high heat. Cook sandwiches, 1 at a time, for 1 to 2 minutes each side or until golden brown. Transfer to a chopping board. Cool for 2 minutes. Cut each sandwich into 16 small squares.




---

Using a stick blender, blend soup until smooth. Add cream. Return soup to low heat. Stir for 5 minutes or until heated through. Season with salt and pepper. Serve soup topped with croutons and basil leaves.
Website:: www.taste.com.au