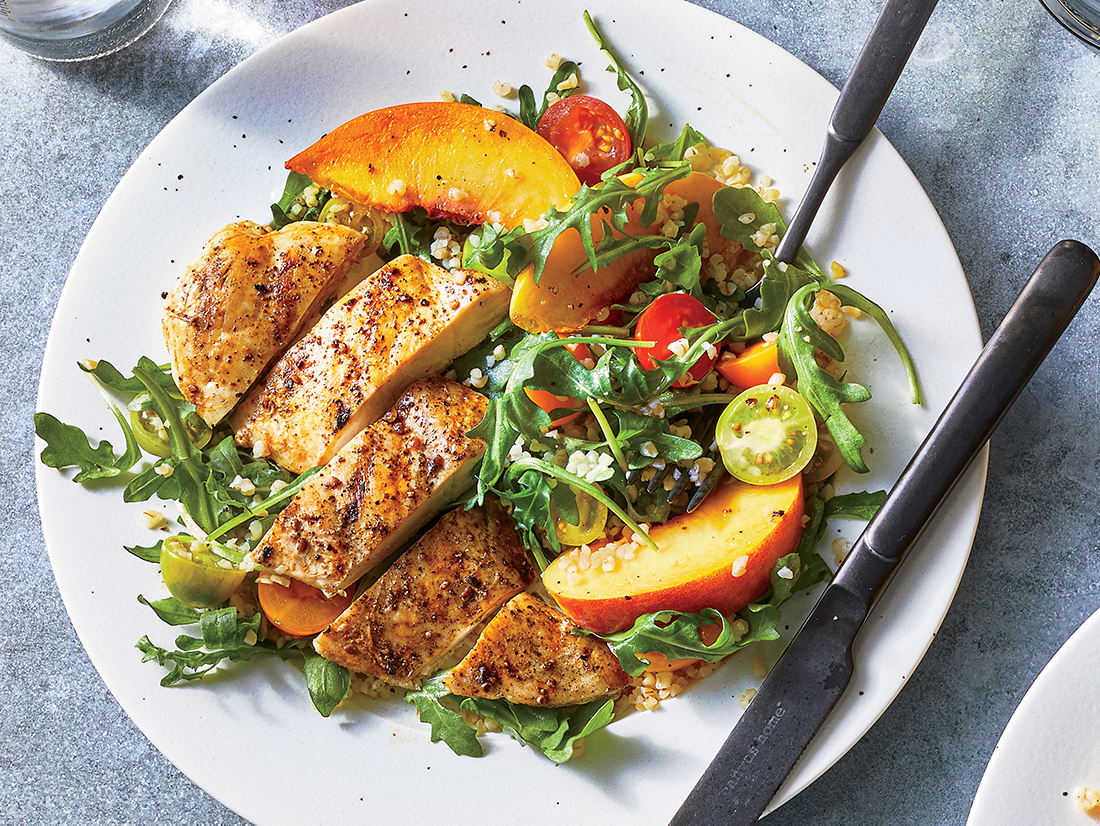 A quick-cooking whole grain, bulgur is perfect for time-crunched weeknight cooking. Try chicken and bulgur salad with peaches for light summer lunch or dinner. If you can't find it on the grains aisle, you can substitute quinoa or whole-wheat couscous.
---
1 1/3 cups water

2/3 cup bulgur

Cooking spray

1 pound chicken breast cutlets

1 teaspoon kosher salt, divided

1/2 teaspoon black pepper

4 cups packed arugula

2 cups halved cherry tomatoes

2 cups sliced fresh peaches

3 tablespoons extra-virgin olive oil

2 tablespoons rice vinegar
Bring 1 1/3 cups water and bulgur to a boil in a small saucepan over high. Reduce heat to medium-low; cover and simmer 10 minutes. Drain and rinse under cold water. Drain well; let dry on paper towels.




---

Meanwhile, heat a grill pan coated with cooking spray over high. Sprinkle chicken with 1/2 teaspoon salt and pepper. Grill chicken, turning occasionally, until done, 6 to 7 minutes. Remove to a cutting board. Let stand 3 minutes. Slice against the grain into strips.




---

Place bulgur, arugula, tomatoes, and peaches in a large bowl. Add remaining 1/2 teaspoon salt, oil, and vinegar; toss to coat. Divide mixture among 4 plates; top evenly with chicken.