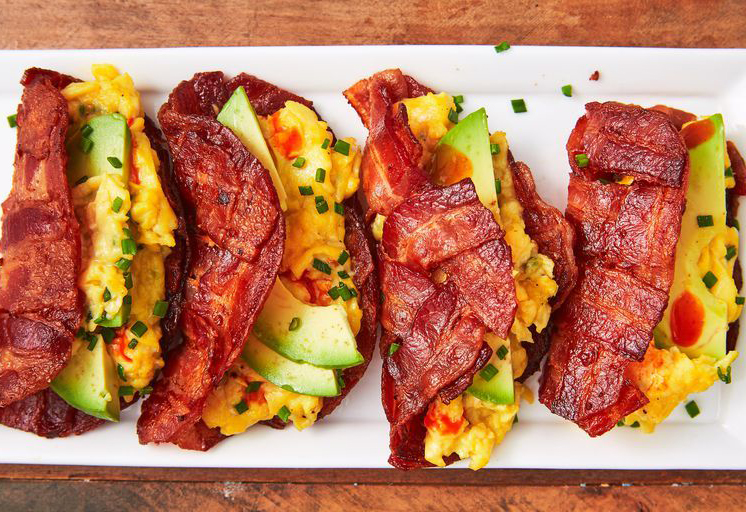 Nothing kickstarts your day like a high protein, low-carb breakfast! We love whipping up our bacon weave breakfast sandwiches for a high-energy day, and this taco variation mixes it up in the best way possible. Top it with some homemade salsa for a hearty and healthy breakfast that will keep you full well past the midmorning slump.
Ingredients
16

slices bacon, halved

Freshly ground black pepper

6

large eggs

1 tbsp.

whole milk

1 tbsp.

butter

Kosher salt

2 tbsp.

chopped chives

1/4 c.

shredded Monterey jack

1

avocado, sliced

Hot sauce, for serving
---
Description
Make bacon taco shells: Preheat oven to 400° and line a large rimmed baking sheet with foil. In one corner, make a bacon weave with 8 halves of bacon each, creating a square. Repeat to make next three weaves. Season with pepper. Place an inverted baking rack on top to make sure bacon lays flat.




---

Bake until bacon is mostly crispy, 30 to 35 minutes. Working quickly, trim each square with a paring knife or kitchen shears to make a round shape.




---

Meanwhile, make scrambled eggs: In a medium bowl, whisk together eggs with milk until well incorporated.




---

In a medium nonstick skillet over medium-low heat, melt butter. Pour in the egg mixture. Gently move the eggs around with a spatula, creating large curds. When the eggs are almost cooked to your liking, season with salt and pepper. Fold in chives and remove from heat.




---

Assemble tacos: On a serving platter, top the bacon taco shells with scrambled eggs. Sprinkle each with cheese, nestle in a few slices of avocado, and top with hot sauce.
Website: www.delish.com