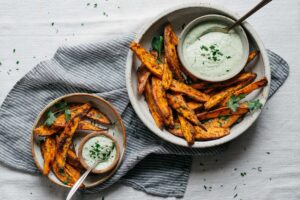 In this recipe sweet potatoes are roasted in a bit of olive oil and italian spices in the oven and served with a dairy-free yogurt dip that's been broken down with some bright herbs, tahini, and lemon juice.  It's the perfect snack to sit and watch a movie with, as a holiday snack, or appetizer!
Ingredients
Roasted Sweet Potato Wedges:
2 large sweet potatoes, cut lengthwise into 1/2-inch wedges

1 tablespoon cornstarch, or arrowroot powder

2 tablespoons extra virgin olive oil

1 tablespoon italian seasoning

1 teaspoon sea salt

fresh ground pepper, to taste
Green Yogurt Sauce:
1 cup unsweetened cultured coconut yogurt (or greek yogurt if you don't need to be dairy-free)

2 tablespoons tahini paste

1 garlic clove, roughly chopped

1/2 cup basil leaves

2 tablespoons parsley leaves

1 tablespoon cilantro leaves

1 tablespoon fresh lemon juice

1/2 teaspoon sea salt

fresh pepper, to taste
---
Description
Preheat oven to 425°F, line a baking sheet with parchment paper and set aside.




---

Place wedges and cornstarch (or arrowroot) in a large plastic bag and toss to coat evenly. transfer the wedges to a large bowl and add the olive oil, italian seasoning, salt, and pepper. spread the wedges into a single layer on your prepared baking sheet. bake for 30-35 minutes, stopping halfway through to flip them over, until the edges are browned.




---

While the potatoes are baking, make the sauce. combine all the sauce ingredients in an upright blender or food processor until well chopped and sauce is green in color.




---

Serve the potatoes warm with the sauce on the side.
Website: www.dollyandoatmeal.com