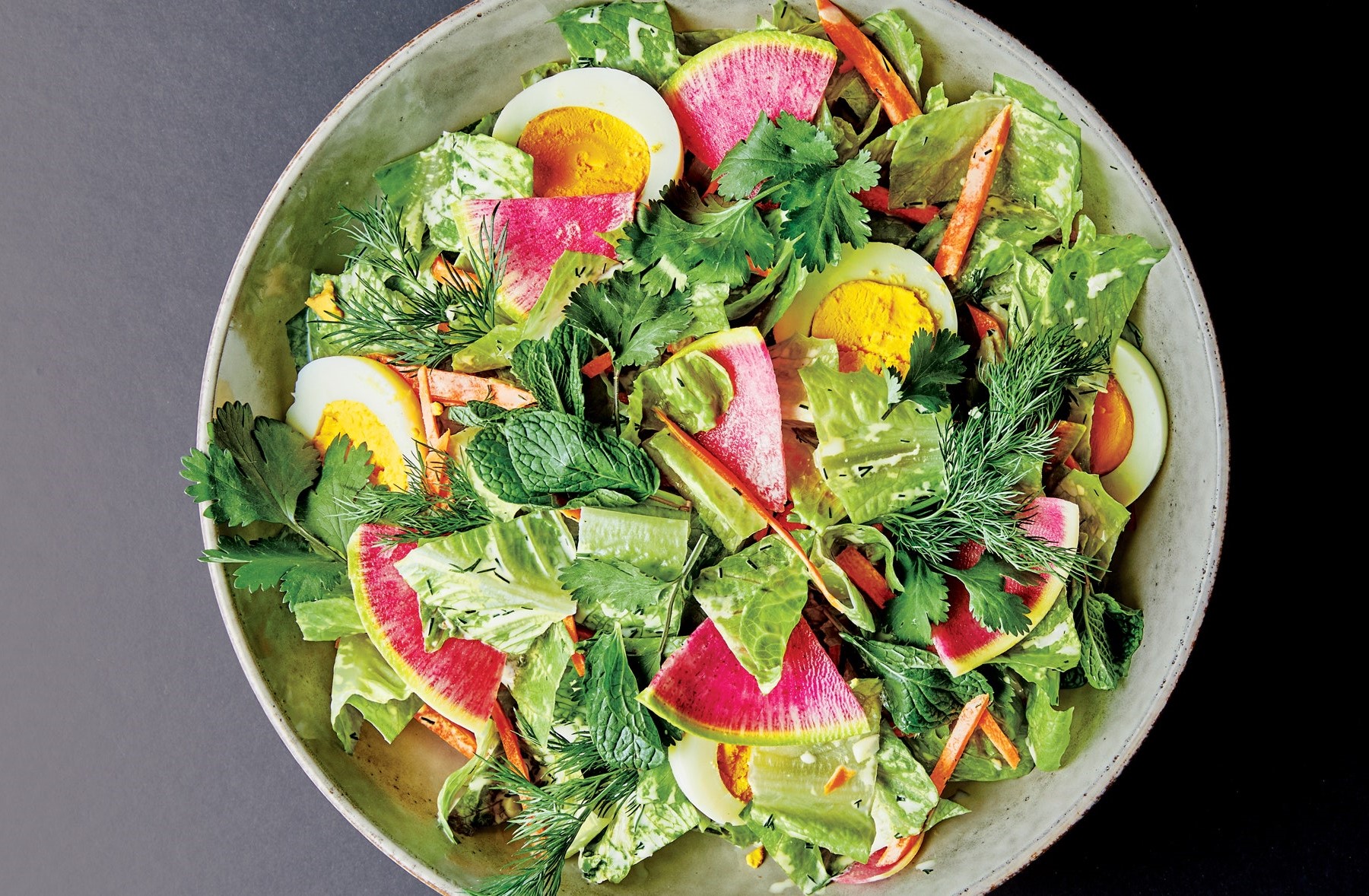 This egg potluck salad is a staple of Hmong potlucks. It's so simple and it tastes like summer with all the fresh herbs. 
---
1 garlic clove, finely grated

¼ tsp. Aji-No-Moto umami seasoning (MSG; optional)

1 romaine heart, quartered lengthwise, cut crosswise into 1″ pieces

1 small carrot, peeled, cut into matchsticks

1 medium radish (such as watermelon or black), cut into quarters through root end, thinly sliced

1½ cups mixed tender herb leaves (such as Thai basil, cilantro, dill and/or mint)
Place a rack in upper third of oven; preheat to 350°. Spread out walnuts on a rimmed baking sheet and toast, tossing halfway through, until golden brown, 8–10 minutes. Let cool, then crush into large pieces with a flat-bottomed measuring cup or glass.




---

Meanwhile, heat 2 Tbsp. oil in a large skillet, preferably cast iron, over medium-high. Cook peppers, shaking pan and turning peppers occasionally, until skins are lightly charred and flesh is tender, 6–8 minutes. Transfer peppers to a cutting board and let cool slightly. If peppers are large, cut in half lengthwise.




---

Combine ricotta and 2 Tbsp. oil in a small bowl; finely grate zest from lemon over and mix well. Season lemon ricotta with salt. Set lemon aside.




---

Combine peppers, cucumbers, mint, and half of walnuts in a large bowl. Cut reserved lemon in half and squeeze juice into bowl. Drizzle in 2 Tbsp. oil, season with salt, and toss to coat.




---

Transfer pepper mixture to a platter along with any juices in the bottom of bowl. Dollop lemon ricotta over and top with remaining walnuts. Drizzle with more oil and season with black pepper.

Serve egg potluck salad as a side dish with crispy chicken tinga taquitos.