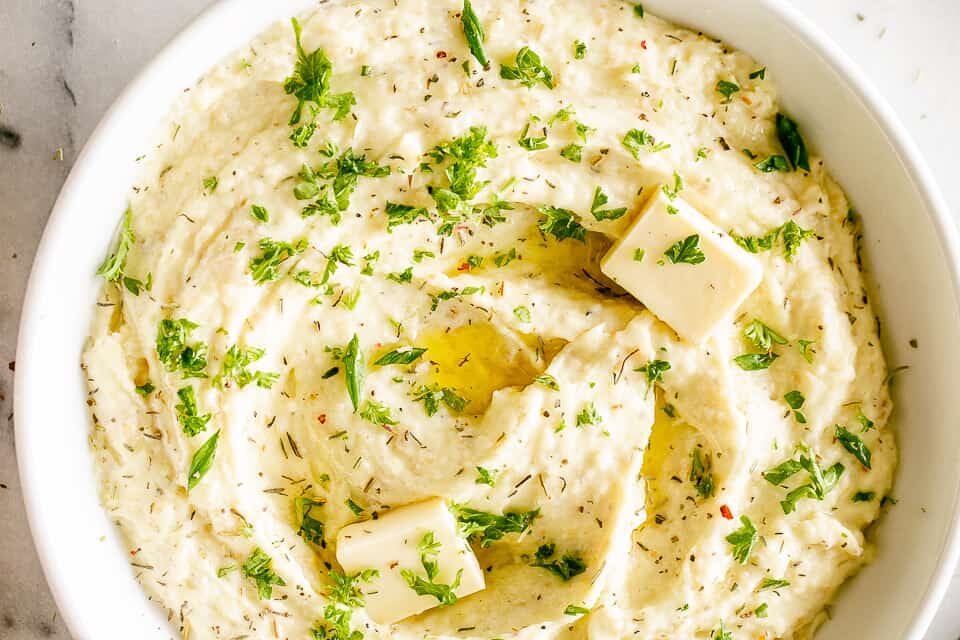 This Creamy Mashed Cauliflower recipe will make you forget that mashed potatoes even exist! A comforting, buttery and garlicky mashed cauliflower recipe that is very easy to make and it's done in just 15 minutes! It's low in carbs but BIG on flavor.
---
Ingredients
8

 

cups

 

cauliflower florets,

 

about 1 head cauliflower

1

 

tablespoon

 

butter,

 

divided

4

 

cloves

 

garlic,

 

roughly chopped

1/3

 

cup

 

buttermilk

1/4

 

cup

 

grated parmesan cheese

2

 

teaspoons

 

Italian Seasoning,

 

or any other dried seasonings that you prefer

1/2

 

teaspoon

 

salt

1/4

 

teaspoon

 

fresh ground pepper

chopped fresh parsley,

 

for garnish
If roasting the Cauliflower: Preheat oven to 450˚F. Toss the cauliflower florets with a tablespoon of olive oil; spread on a rimmed baking sheet and roast for 20 minutes, or until tender.


---

If boiling the Cauliflower: Fill a large frying pan with 1/4 inch water; add 1/2 teaspoon salt and bring to a boil. Add cauliflower florets; cover the pan and cook for 10 minutes, or until tender and soft. DRAIN WELL and set aside for 3 minutes to steam-dry.

---

In a large frying pan (use the same pan that you used for the cauliflower, just wipe it down) melt 1/2 tablespoon butter.

---

Add garlic and cook for 30 seconds, or until fragrant. Remove from heat.

---

Stir steamed (or roasted) cauliflower florets to the pan with the garlic.

---

Add remaining butter and buttermilk.

---

Grab the immersion blender and blend to a desired consistency.

---

Stir in parmesan cheese, Italian seasoning, salt and pepper. Taste for seasonings and adjust accordingly. Add more butter or buttermilk to make it creamier.

---

Transfer to a serving bowl and garnish with parsley.

---
---
Recipe Notes:
Let the steamed cauliflower florets cool down for 3 minutes after you've drained them. This way the cauliflower will steam-dry as it cools and it will absorb some of that water.




---

If using a traditional blender, you will need to blend the cauliflower in batches.