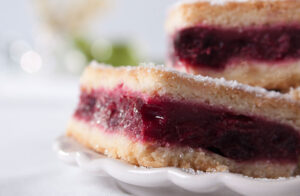 This cherry pie is healthy and easy to make, and the best dessert you can have if you're a cherry lover!
---
Ingredients
400 g spelt flour

150 g butter

2 tablespoon fructose

pinch of sea salt

1 egg

lemon zest

1 teaspoon baking powder

little cold water
For filling:
500 g cleaned cherries

50 g fructose

1 teaspoon cinnamon
---
Description
Mix in a bowl flour, salt, baking powder and fructose. Add butter cut into cubes and rub with your fingers to get crumbled mixture. Add one egg and lemon zest, then with water knead the smooth dough. 




---

Form in the ball, wrap in the foil and leave to rest in the fridge for 30 minutes. Then divide dough into two parts and stretch each into rectangular crust. Grease baking dish and cover the bottom and the sides with one part of the dough.




---

Prick with the fork and bake in preheated oven on 180 degrees for ten minutes. Remove crust from the oven and arrange cherries over it. Sprinkle with cinnamon and fructose per taste. Then cove with other half of the dough. Press the ends to paste and decorate upper dough per your taste. Bake in preheated oven on 200 degrees about 30 minutes.




---

Serve cherry pie and enjoy!
Website: chrono-diet.com